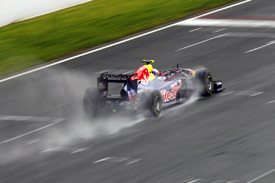 Mark Webber has rubbished Bernie Ecclestone's idea of using artificial wet weather conditions to increase excitement in Formula 1.
Ecclestone revealed his radical idea earlier this week to install sprinkler systems at some tracks to help improve the chances of overtaking.
Although the idea has received backing from F1 tyre manufacturer Pirelli, Webber thinks that some of the sport's legends of the past would be hugely disappointed if grands prix were manipulated in such a way.
Speaking to the BBC about whether F1 needed such radical innovations, and whether he was in favour of them, Webber said: "No and no.
"It wouldn't be the most sophisticated way to make the show more entertaining."
Webber believes that the weather already throws enough intrigue into races without the need to artificially make it better.
"It can be more exciting when we have some different weather conditions, that does happen," he said. "But you just try and think of Jimmy Clark, and Jackie Stewart and [Ayrton] Senna and those guys, masters in the wet.
"Jackie's still here but the other two would be turning in their graves if they thought we'd have sprinklers and hoses lined up around the track."
Ecclestone reiterated his idea to the BBC, suggesting that the sprinklers could be used at random intervals in races.
"I'm happy to make it happen," he explained. "My idea is that we should make a programme that nobody knows exactly which programme is going to be used and it would start at some time during the race. It would be raining effectively.
"It would maybe stop and maybe rain again later. Or maybe not. So nobody would know."
Report By Jonathan Noble - AUTOSPORT