2014 FORMULA 1 RUSSIAN GRAND PRIX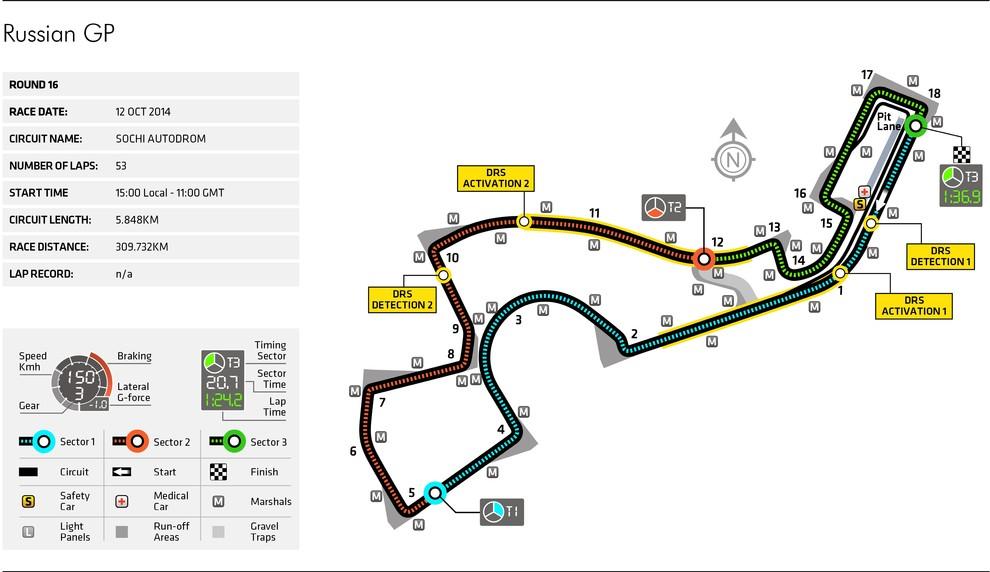 Sochi
Race Date: 12 Oct 2014
Circuit Name: Sochi Autodrom
First Grand Prix: 2014
Number of Laps: 53
Circuit Length: 5.848 km
Race Distance: 309.732 km
Lap Record: -
UK Times
Fri 10 October 2014
Practice 1 07:00 - 08:30
Practice 2 11:00 - 12:30
Sat 11 October 2014
Practice 3 09:00 - 10:00
Qualifying 12:00
Sun 12 October 2014
Race 12:00
Previous Winners
New Track
Vettel Infiniti lap
Facts from the last race
Ferrari's difficult season continued in Japan where they failed to score a point for the first time since the 2010 British Grand Prix. In that time they had scored points in 81 consecutive races, beating McLaren's previous record of 64 which was set last year.
None of Ferrari's engine customers finished in the top ten either, meaning there were no Ferrari-powered points scorers, which last happened at the 2009 Singapore Grand Prix.
Mercedes now have the longest running points-scoring streak for a team: 35 races, which began at the 2012 Brazilian Grand Prix, the race before Lewis Hamilton joined them.
Mercedes locked out the front row of the grid and finished one-two, both for the eighth time this year. If they continue to finish one-two in all of the four remaining races, Nico Rosberg must win at least three of them including the double points finale to beat Hamilton to the drivers' championship.
It was the 30th win of Hamilton's career – one more will see him tie with Nigel Mansell as the most successful British driver in terms of race wins.
It was the 12th pole of Rosberg's career, putting him level with Gerhard Berger and David Coulthard.
Hamilton's sixth fastest lap gives him one more than Rosberg so far this season, and moves him on to 19 for his career so far. That puts him level with childhood hero Ayrton Senna, as well as Stirling Moss, Damon Hill and Mark Webber.
Rosberg led his 400th lap of the season. Hamilton has 362.
Penalty points so far
Marcus Ericsson 5
Jules Bianchi 4
Pastor Maldonado 4
Kevin Magnussen 4
Valtteri Bottas 2
Adrian Sutil 2
Jean-Eric Vergne 1
Standings