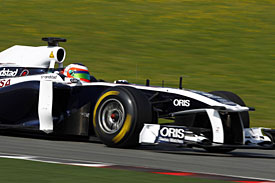 Williams technical director Sam Michael thinks it is too early to judge whether or not his team will run KERS at the start of the season, following the problems it has suffered in Barcelona testing this week.
The Grove-based outfit has had to remove its KERS from the FW33 for testing in Barcelona following a major problem that it suffered on Wednesday.
Although the issue was not battery related, the team had to conduct an emergency cool-down procedure of its batteries in the Barcelona paddock to ensure there was no danger in that area.
The problems with the KERS have cast doubts on whether or not the team will risk running the device in Australia - because further reliability issues could cost it the chance of valuable early-season points.
However, until the KERS items have been returned to the team's factory for further analysis, Michael thinks he cannot say for definite what his team will do.
Speaking to AUTOSPORT, Michael said: "We had an electrical problem - not with the battery or the MGU [motor generator unit], but the equipment that goes between the two. That stuff has gone back to the factory to find out what caused it."
When asked if there will be enough time to remedy the problems before the season-opener in Australia, Michael said: "We will just get through the problems as quickly as we can. I don't have an answer to that. I know what part failed but I don't know why."
Michael did make it clear, however, that it was positive for the team that the KERS problem was not battery related – as had been feared because of the cool down in the paddock.
"We took the battery out of the car on Wednesday, and we had to do a douse procedure on it because we were not sure if it was the battery or not.
"What we did was flooded a battery that did not need to be flooded, but because of safety we had to do that as a precaution. As it turned out it wasn't anything to do with the battery, which was a very good sign as if it was a battery problem then I would be more worried. The battery is okay."
Report By Jonathan Noble and Dieter Rencken - AUTOSPORT