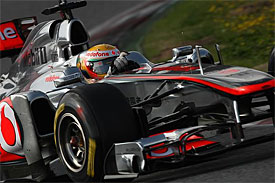 McLaren team principal Martin Whitmarsh believes it too early to write off his outfit's title challenge for 2011 - despite the struggles the team has faced in testing so far.
Jenson Button said earlier this week that he thinks McLaren cannot challenge Red Bull Racing and Ferrari at the start of the season, while Lewis Hamilton thinks the MP4-26 is not a title-winner in its current guise.
Those comments have fuelled doubts about McLaren's prospects for 2011 – but Whitmarsh remains open-minded about his team's prospects.
"It's simply too early to say anything definitive about the MP4-26 or indeed about any other 2011 Formula 1 car," Whitmarsh said in an interview with the official F1 website.
"Time without number, motorsport pundits have come unstuck when they've attempted to extrapolate testing times to predict race results, and I'm not about to join their number now. Suffice to say that we've had a few reliability issues during testing so far, but we're confident that things are going in the right direction now."
Although McLaren is still struggling to overcome the reliability problems that have hurt its early running, Whitmarsh remains adamant that the team did the right thing in launching its new car late.
The team elected to start winter testing with its 2010 car, and launched the MP4-26 in Berlin only after the opening test in Valencia had taken place. McLaren is also the only team to have split up its testing in Barcelona this week – having run on Tuesday and Wednesday and then again on Friday and Saturday.
Speaking about the testing programme, Whitmarsh said: "The reality is that every decision you make regarding the building and operation of a Formula 1 car amounts to a calculated and strategic balancing of risk.
"In the case of the MP4-26, one of the most significant performance factors facing every team for 2011 was the introduction of the new Pirelli tyres - a variable that, by running at Valencia using last year's car, we felt we could more richly evaluate in isolation, on a platform that we already knew and understood.
"In actual fact, that first test proved extremely beneficial in providing us with rich, raw tyre data that we've been analyzing ever since. So, while I admit that the introduction of the MP4-26 has been affected by a few reliability issues, we still stand by our decision to defer its introduction by one test.
"By contrast, by choosing to sit out the Thursday of the final Barcelona test, we've effectively extended our working window by an extra day: we're running Tuesday-Wednesday-Friday-Saturday.
"Late delivery of new components is always critical in the run-up to the first race, and we felt that Tuesday-Wednesday-Friday-Saturday was the optimal way to ensure we could stretch that window as much as we could. Once again, it's an approach that we've thought about carefully, and feel confident will prove beneficial."
Report By Jonathan Noble - AUTOSPORT