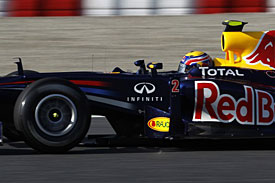 Mark Webber has refused to rule out Ferrari as favourites for the start of the 2011 Formula 1 season in Melbourne, despite most of Red Bull's rivals pointing to the RB7 as being the pace-setter through testing.
The Australian says that while testing form remains difficult to predict, he expected Ferrari to be challenging at the front in Australia.
"I think Ferrari is strong. I think we're going okay and the rest is hard to say," he said. "I haven't even looked at the times today, they're not even of interest, you just focus on your own thing.
"I think we'll be in the top eight in Melbourne," he joked.
"The form is still very hard, I would not put my house on qualifying in Melbourne, I don't know who has the outright pace. I don't know. I think we're going okay but it's impossible for me to know what the red guys are doing. Race runs they are going okay, they look quick.
"We know how many championships are won on Saturday afternoon - not many - so we're always respectful of what happens on Sundays, that's why we've done a good job in the past and so we'll keep focusing on improving that in the future.
"Our long runs weren't as good today as we did a few days ago but we understood what we did today. Generally this week we've made many, many steps forward," he added.
Webber was confident in Red Bull's own preparations however, stating that the team had never been more prepared at this stage of a pre-season than it is with this year's RB7.
"I'm ready for the first race and you always want a good run in your home race but I don't want to jinx things for myself," said the Australian. "In terms of team preparations it's the best we've had in terms of reliability and understanding the car but it's still a long, long way to go.
"All the departments have done a sensational job. You can never have it perfect but we could be in much worse shape in terms of reliablity. Hopefully we are not too far away from Ferrari to start with and we go from there."
Report By Jonathan Noble and Simon Strang - AUTOSPORT