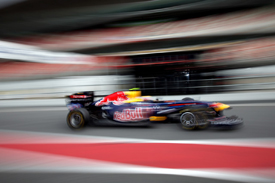 Mark Webber says Red Bull Racing is 'ready' to take its new car into battle for the first race of the season, after another encouraging day of testing at Barcelona on Tuesday.
With the new RB7 widely tipped as one of the favourites for victory when the campaign finally gets underway in Australia, Webber is equally confident about the progress the outfit has made over the winter.
And he admits that he is keen to now get on with the racing, so the reigning world champion team can finally get some answers about where it stands compared to its main opposition.
"You can always do with more time - but I feel we are ready to go now and get into it," Webber said when asked by AUTOSPORT about his feelings on Red Bull Racing's pre-season preparations. "We will see where we are.
"You always learn more when you go racing about your strengths and weaknesses as a team. That comes from pace, reliability, pitstops, organisation, Saturdays/Sundays, the whole thing. So the whole weekend needs to be tested shortly and we will go from there. We are only a few days away from that."
Although Webber is not surprised that rival teams believe Red Bull Racing is out in front, he is still cautious about making any bold predictions before competitive action starts.
"We are not going to sit here and say we are going to destroy the first race and kill everyone, because that would be naive," he said. "There are a lot of people with similar pace – don't worry about that."
He added: "It is pretty obvious that the team is incredibly motivated, and organisation-wise we are in great shape - so we are building on what we did last year.
"But I don't think there is a huge amount of evidence to go on from the previous eight weeks to be honest, because today we see everyone with similar pace. Ferrari isn't here, and McLaren is not hanging around either.
"We need to go racing. Unfortunately I will be able to tell you guys a lot more come Sunday I believe, even Saturday night in Melbourne. We will have an idea of 60 per cent of it, but 40 per cent will still be confirmed after the race to be honest.
"So it is quite frustrating that I cannot give you guys more on what is happening. There is such a big variation in tyre age and fuel loads, that there is no one in the pitlane who knows where they are."
Webber also laughed off suggestions that Red Bull Racing had not yet shown its true pace in testing so far.
"Certainly not," he said. "I would love to be able to say that. There is not enough time to play games with yourself, let alone other people."
Report By Jonathan Noble - AUTOSPORT