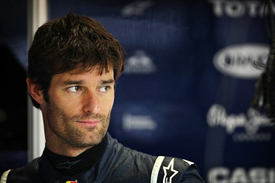 Mark Webber thinks he will see out his Formula 1 career at Red Bull Racing - after making it clear that he is fully focused on a long-term future with the reigning champions.
During a sometimes tumultuous 2010 campaign, there was widespread speculation that the Australian could choose to turn his back on the sport.
However, speaking ahead of the new season, a fired up Webber said there was no reason for him not to look at extending his spell in F1 - and that meant staying with Red Bull Racing.
When asked by this month's issue of F1 Racing about whether he sees his future tied exclusively to Red Bull Racing, Webber said: "I would believe so.
"I want to continue – any driver wants this – racing towards the front and hanging out with these punks...week in week out.
"To race with them is very rewarding and enjoyable. Of course you have nerves at the time. There's not a guy in the pit lane who doesn't have nerves. They'd be lying if they told you they didn't.
"It's what gets you out of bed. That's what a competitor goes through and that's what you enjoy."
Webber added that despite some internal issues he has had at Red Bull Racing in the past, he is happy with his position at the outfit.
"Obviously we've had a few headwinds here and there within the team, but to have two drivers do what we did last year is a unique situation and one of them might not – was not – supposed to have been in that situation," he said.
"I hope I can continue to work hard for Red Bull. They know my reputation is that when I do things, I do them to the best of my ability at all times. And they know that I will do that again."
Despite his comments about remaining at Red Bull Racing, Webber did not deny that a switch to Ferrari – as he was also linked with last year – could not be totally ruled out.
When asked which team could lure him away from Red Bull Racing, Webber said: "Driving those red cars has always held that romantic attraction..."
* F1 Racing's official season preview, which features interviews with Webber and Nico Rosberg, plus profiles of Sebastian Vettel, Fernando Alonso and Lewis Hamilton, is available in shops now.
Report By Jonathan Noble - AUTOSPORT