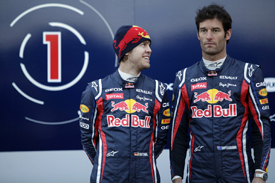 Mark Webber hopes that the rest of the world will quickly move on from talk about the troubled relationship he had with Sebastian Vettel last year - as he thinks discussion of their issues is now a 'broken record'.
The Australian endured some flashpoints with his Red Bull Racing team-mate in 2010 - with talk of favouritism within the outfit, their on-track collision in Turkey and the behind-the-scenes politics at Silverstone.
But despite their difficulties, Webber and Vettel held clear-the-air talks after the season finale in Abu Dhabi – and are heading into 2011 in a much better way.
When asked about the team situation for this year, Webber said: "At the moment we only have one car so it is a problem if we don't get on with one car. When we get two, let's see what happens!
"Unquestionably we learned a lot about each other last year. It was a sensational season for the whole team, both of us personally. Of course I would have liked a slightly different result, but that is sport and that is what competing is.
"At the end of the day there can only be one guy who won the world title and Lewis [Hamilton]/Fernando [Alonso] and myself, we missed it. This year, we don't even know if we have a chance to go for those types of results again, and that already changes things.
"If we cannot, then of course there is less tension. But last year was quite a unique situation. It is not often that you have two team-mates going in the same team at the last few races for the world title. Of course I hope it happens and we know we learned a lot."
He added: "But it is a completely broken record. People keep talking about it, but it is a broken record. I hope when I am 70 they are not still asking me if I love Sebastian."
Report By Jonathan Noble - AUTOSPORT