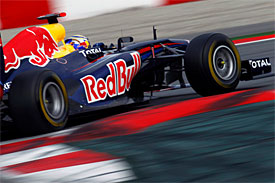 World champion Sebastian Vettel believes Pirelli's tyres will force drivers to make at least three pitstops during races, as he reckons one or two are impossible at the moment.
Pirelli has said several times that it has designed its tyres to wear out quicker than last year's Bridgestone, with two-stop strategies the main goal.
Vettel, however, reckons the current tyres will not last enough to stop just twice, and he predicts races with up to four pitstops.
The German also thinks the racing will change significantly because of the different tyres.
"The tyres are very different from last year, but then again it's the same for everybody," said Vettel. "I think the racing will change.
"I think one stop is impossible and at this stage also two stops, so I think it will be a three or four-stop race. I think it will make it very interesting.
"The question is if it is a good thing for us or a bad thing. It's hard to say now because obviously we have to get going first and see how the races unfold.
"But other than that we have the rear wing which should make overtaking a bit easier to us. A lot of questions, but I think we will only find the real answer when we go racing, really."
The Red Bull driver admitted he is also hoping the moveable rear wings and the KERS will not make overtaking too artificial.
"KERS is the same for everybody so it doesn't really make a big difference. The rear wing is a bit of a different story because you can use it in the race only for attacking, not for defending.
"I just hope it doesn't make overtaking too easy because then it would make the racing artificial. We need to see."
Report By Pablo Elizalde - AUTOSPORT