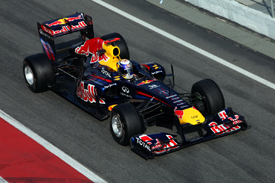 Sebastian Vettel insists it is still too early to say that Red Bull has the fastest car going into the 2011 season, despite the team's performances in testing this week.
Mark Webber and Vettel have been fastest by comfortable margins on the opening two days of this week's Barcelona sessions, and yesterday the Australian said that the reigning champion team was ready to start its title defence.
But Vettel would not be drawn on where Red Bull stood relative to the competition.
"I think it is still difficult to say," he insisted. "The lap times are still pretty much all over the place, and sometimes you go up to eight or nine seconds slower with the fastest configuration, so it's difficult to read what the others are doing.
"But I think that we have done a lot of laps again, and generally this year we haven't had any big problems with the car in terms of reliability, and the speed looks quite good so far as we can judge. But we will find out in Melbourne where we really are."
He said that it felt like Red Bull was starting from scratch rather than carrying momentum through from last year's championship success.
"The wheels are turning again since February and we have plenty of things to work on, problems to solve, a lot of new things on the car, new tyres and they will keep us busy enough," said Vettel.
"[The season] hasn't started, but there are so many new things this year with the tyres. it's difficult to read how quick you are, but in general it looks quite good and the car is reliable.
"So far we have no big problems, and compared to the rest of the field then I think, yeah, we should be there or thereabout.
"We need to wait one race to see exactly how good we are. Melbourne is not a real racetrack, so it could be Malaysia or later when we see what is going on."
Report By Mark Glendenning and Matt Beer - AUTOSPORT