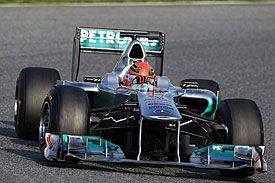 Mercedes GP hit the track with its updated W02 at Barcelona on Friday, with the team hopeful that the updates will deliver the step forward in speed that they promise.
With the new parts - which include a revised front wing, new turning vanes and other developments - arriving on Thursday night, they were fitted to the car overnight ready for Michael Schumacher to evaluate the steps on the penultimate day of pre-season testing.
The car already featured a revised diffuser and a different exhaust layout which team principal Ross Brawn reckoned had delivered a 'significant' step forward in pace.
Schumacher got an early boost as he moved to the top of the timesheets in the opening hour of running – although varying fuel levels make a meaningful comparison of its pace against the opposition impossible.
Mercedes-Benz motorsport boss Norbert Haug believes the steps will help the team emerge as a competitive force at the season-opening Australian Grand Prix – even though testing form has been difficult to read this year.
When asked about who he thought Mercedes GP's immediate rivals were, he said: "There are probably a dozen cars at least!
"It is probably very clear who is fastest and who has the most consistent lap times currently, then there is probably a second place team. And my guess is that for third spot there are probably a handful of teams fighting for that place initially at the first race.
"But as we saw in previous years that can change. It can change after testing – and it can change from one day to the other. If our package comes together as planned, we can probably make a good step – and if that does not work we need to explore our capabilities further.
"It is difficult to make predictions, and that is what makes it interesting at the end of the day."
Report By Jonathan Noble - AUTOSPORT