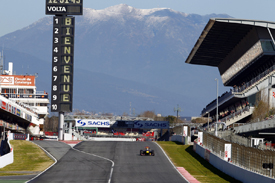 Red Bull Racing has become the final team to confirm its testing plans for Barcelona next week, with the team electing not to join Ferrari, Mercedes, Williams and HRT in running on the final four days of the test.
The final pre-season test in Barcelona has been expanded into a five-day session after Mercedes GP elected to switch its programme - running Wednesday to Saturday instead of Tuesday until Friday.
There had been some discussion between teams about all outfits running on those days, but only Ferrari, HRT and Williams have elected to go down the Mercedes route.
Other outfits were adamant they wanted to stick to the original plan, and Red Bull Racing has spent this week evaluating whether it too would keep to the Tuesday-Friday schedule.
The team had to weigh up whether it would benefit from holding back its running so it mirrored main rival Ferrari's testing programme, or ran early to gain an extra day's preparation time before freight is shipped to Australia.
Red Bull Racing has now decided to run from Tuesday to Friday - meaning that Ferrari, Mercedes and Williams will run alone on Saturday.
As well as being the final pre-season test, Barcelona is set to mark the first time that all the 2011 cars will run at the same time, as HRT is hoping to unveil its new F111. A team spokesman told AUTOSPORT that it was "90 per cent certain" that the new car would run for the first time on the Wednesday or Thursday of the test.
Report By Jonathan Noble and Pablo Elizalde - AUTOSPORT