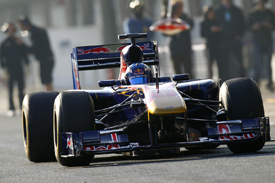 Toro Rosso race drivers Sebastien Buemi and Jaime Alguersuari are adamant that they do not feel any extra pressure from the presence of third driver Daniel Ricciardo in the team this year.
Ricciardo is tipped as the Red Bull junior programme's next big star after his strong performances in feeder categories and the winter Formula 1 rookie tests. His 2011 deal involves driving for Toro Rosso in Friday morning practice at every grands prix, and Buemi and Alguersuari's drives are believed to only be guaranteed for the first half of the season - leaving the door open for Ricciardo to be promoted if the race duo underperform.
But Alguersuari says he welcomes Ricciardo's presence and that the Australian can be an asset to the team.
"I think it's very important for us that Daniel is in the car, as we have so many things which were not there last year," the Spaniard said in an exclusive interview for this week's AUTOSPORT magazine.
"We know Daniel is a fast driver, and we will have another voice in the team to judge what we need to improve, what we need to achieve. And it's also great for him to get this chance of driving an F1 car on Fridays, getting to know the tracks. I think Daniel is an important part of the team.
"In the end, the pressure is always in your hands. You live and you die with your own pressure. It's never the others, it's yours, it's what you create in your mind. It's not a negative thing, actually it's a very positive thing. I don't mind to stay off the track in FP1, because to be honest, we don't really run a lot.
"It's obviously important that you're in the car more, but I would prefer that Daniel is with us, and he can improve the car. And he tested a very competitive car last year [with Red Bull], so it's very important that he can compare both."
Buemi agreed that missing out on occasional Friday practice sessions would not be a great hardship.
"Not driving on Friday morning every two grands prix... I have to be honest, you don't do too much, and the circuit is not clean," the Swiss driver told AUTOSPORT. "And we will have a kind of comparison, you know? Daniel has been really quick in a Red Bull car, and now we will see in a Toro Rosso.
"Obviously he will have the same car as us, so it's good for the team because they know that he has been doing a good job. I'm looking forward to it as well."
Toro Rosso has a record of dropping drivers mid-season, having replaced Scott Speed with Sebastian Vettel halfway through 2007 and exchanged Sebastien Bourdais for Alguersuari in mid-2009. But Buemi, who is starting his third year as an STR race driver, said the squad should also bear in mind the value of continuity.
"It's pretty difficult if you change the driver all the time," he said. "You lose time getting up to speed with them. Obviously the driver has to be good - you don't want to spend one or two years with a slow driver."
AUTOSPORT Plus subscribers can read a full exclusive interview with Sebastien Buemi by clicking here.
Jaime Alguersuari shared his thoughts on 2011 in an interview for this week's AUTOSPORT magazine, available in shops now or in digital form here.
Report By Adam Cooper and Matt Beer - AUTOSPORT