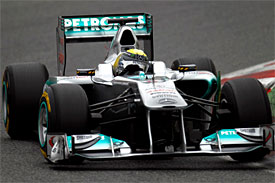 Nico Rosberg says he has already seen 'glimpses' of a much-improved performance from his Mercedes GP team after trying out the first of a series of upgrades at Barcelona on Wednesday.
With the team bringing on a number of developments over this week's four days of running, Rosberg seemed genuinely uplifted by the first of those steps that he tried out today - which included revised exhaust exits.
"We expect a big step, so I can say that I am hopeful. I am positive," said Rosberg when asked by AUTOSPORT in Barcelona about his gut feeling on where Mercedes GP was now after a difficult start to testing.
"I am just looking forward because I am looking forward to going quick. That is the whole point – and having a car that just feels that much better. That is something that you enjoy as a driver. So I look forward to that – and there were glimpses of that today which is always nice."
Although Rosberg has not yet tried out the full update package, he said the parts he did try out seemed much better from the car he has had up until now.
"We had a few bits and pieces of the upgrade which was randomly on the car – sometimes yes, sometimes no. And obviously it doesn't fit together well with the rest of the car, as most of the rest of the car is old, so there are bits and pieces coming – but there were glimpses of the performance gain, which seemed very impressive today.
"So, that makes me very hopeful and I think they have done a great job with many of the things that are coming so with time now, as the days on, we will have more. If the weather is a problem then maybe we will not be able to run the full new spec at this test, on a dry track, because it is planned for later on in the week, but otherwise generally it has been okay."
Rosberg said it was difficult to firmly predict where Mercedes GP were in the rankings, but he was confident the team could start 2011 in better shape than last season.
"What we need to do is build on last year, yeah? That is where we need to be. We need to build on last year and move forward, and I am hopeful that we can achieve that."
When asked if that could be achieved for the first race, Rosberg said: "Yeah, yeah – from the start of the season. It has been a challenging winter.
"A lot of things did not go to plan, and it wasn't easy. But the hours the factory has put in is crazy sometimes, so I am very thankful for that. But they have been rewarded because things are coming along. A lot of things have worked out now, so it is looking much better."
Report By Jonathan Noble - AUTOSPORT