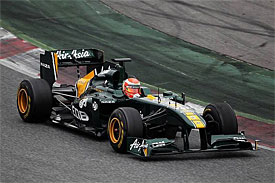 Jarno Trulli admits the reliability of his Lotus car is still a concern ahead of the start of the season in Australia.
"Yes, at the moment we still have a lot of stuff that is not correct, and causes some concern," Trulli said in Barcelona following the second day of testing.
"We still have a lot of issues we need to solve for the first race, I hope we are going to solve them and get to Australia reliable enough. This Bahrain cancellation has helped us quite a lot."
Trulli says, however, that the situation is completely different to last year, when the team was in a rush to get its car ready following the late granting of its entry.
"Last year we could not do that because they were not actually built by us, so we could not react," he said. "This year we have a lot of new stuff, and when you have a lot of new stuff you are going to have some reliability problems, but you can also solve them during the season.
"Let's wait and see. I am sure the first race will be better, and we will be in a better shape during the season as we will have brand new stuff."
The Italian, whose team was the best of the new comers last year, is still optimistic Lotus will be a contender for the midfield this season.
"I think at the moment it is difficult to judge. I reckon who is looking pretty strong of the midfield and we won't catch is probably Toro Rosso, which is going very well from the beginning of the winter testing.
"McLaren is not doing very well but still obviously ahead of us - the question mark is Sauber and Force India – those teams are the ones that probably we might be fighting with. But it is obviously too early to say.
"I am confident we can still be in the midfield."
Report By Jonathan Noble and Pablo Elizalde - AUTOSPORT