Vitaly Petrov will complete his winter testing programme today at Barcelona, but the Russian admits he doesn't know where his Renault team stands.
AUTOSPORT caught up with Petrov ahead of his final day of testing.
Q. How was your day?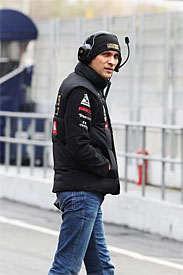 Vitaly Petrov: Not bad. This car is working, so we managed to do a few kilometres. I think it was a positive day. We did a long run, so we understand how the tyre is working, and I think tomorrow we will just continue.
Q. Some drivers are now totally ready to go to Melbourne and others who want a lot more testing. How do you feel?
VP: Of course more days for us is positive because we have quite a few new things on the car, so we need testing. That is what we did yesterday and today. Tomorrow we will continue the same way and then we will be ready for Australia.
Q. How long do the tyres last in your experience Are they only good for 15 laps?
VP: Something like this. It depends also if the tyre is new, or scrubbed, or how much you push, or look after them. But it does not take long. After just one lap it is losing 0.5s, then 1.5s, then two seconds, then three seconds. So the team that wins will be the one that decides - if you come in one lap later, you lose two or three seconds. If you come in one lap earlier, it will give you some advantage.
Q. So once the tyre is finished that's it?
VP: It's over on this particular track, yes, because it's not just the rear. This year we are losing the front and also the rear. Both the left-side [tyres] are damaged quite a lot.
Q. So they are going down and not coming back at all?
VP: Straight down, and getting more down and down and down. We tried today to keep them - with Bridgestone if you make a mistake, or locked up, or overheated the rubber, then you could drive more smoothly and the tyre would come back. But now there is no way. Sometimes in just one corner you lose one second.
Q. Will it be good for racing?
VP: Strategy will be a big thing. Knowing whether to come in earlier or stay out a bit longer will be quite tricky, because of whether you have a slower car, or a faster car, or whether you have traffic. Today we tried to stay out quite long but there is no way when you are three or four seconds away.
Q. There has been no real testing with the wet tyres. Is that a concern?
VP: No, we did some laps.
Q. But nothing close to a race distance.
VP: Last year we had a lot of wet tyre testing! I don't think this is a problem. Well, it's a problem, but not a problem. (laughs)
Q. Other teams are putting you in that group just behind Ferrari and Red Bull?
VP: Who said we are behind Ferrari? (laughs)
Q. What's your gut feeling on how good this car is?
VP: It's difficult to say because nobody is running low fuel. Maybe we didn't. It's difficult to say where I am and where another team is. Red Bull still looks quite strong, but the rest, I don't know.
Q. But you feel satisfied with your car now?
VP: Yeah. In the beginning on the first day of testing I was not happy about the car. I was thinking I was in the shit maybe, because it was really difficult to drive with these tyres. If the car started to lose the rear, you couldn't control it because it was so quick. With the Bridgestone you could control it, you could slide, do a rally a little bit, you know? But with these tyres, if it comes, it comes quite quick and it's difficult to control. But now that we have a lot of new aero parts and a lot of other new things it is getting better and better. I think after a few grands prix we will have more parts coming and it will be much better.
Q. So you feel a big change in the car from the last test?
VP: We have quite a big aerodynamic upgrade. It's a big change compared to the last test. I get out of the car and I am happy. When you feel that the car is driving well you get happy, and you can work.
Q. Are you happy with reliability?
VP: Yeah, I don't think we had any problems today. Cross fingers I don't have any tomorrow.
Q. How do you see your relationship with Nick Heidfeld?
VP: He's sick. I don't understand what he is doing here, he should be back at the hotel. But at the moment it is OK. We are talking, we discuss a lot of things, if he does a race distance I go and talk to him and he explains what is going on with the tyres, because it is important for our team to share all the information. He is quite open.
Q. Do you feel that the F1 cars have changed too much since last year, with KERS, the rear wing and the tyres?
VP: In the beginning, yes. When I was first testing with the rear wing I was wondering how we can do everything, and then you have to change something else. But it is not a problem. The main thing was tyres. To be honest, it's normal with the rear wing. Every time you go full-throttle, you open the wing. It's OK.
Q. Have you had any problems with the rear wing in testing?
VP: No. It's working very well. Can you imagine Turn 9 if it wasn't closing? I'm always watching the light before I go into Turn 9, because if the wing is open then the light is flashing. If the light has gone off, it's OK. If it's still on, it means a problem!
Report By Mark Glendenning - AUTOSPORT