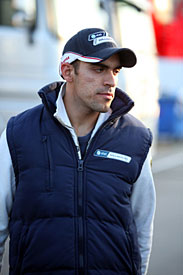 Conducted and provided by the Williams team press office
Q. How did your first test day go in Barcelona this week?
Pastor Maldonado: We had a KERS problem which unfortunately cost a few hours' track time and we only did two short runs. It is better for the problems to come out now though than on a race weekend; that is what testing is for. We have a new aero package here as well, with more upgrades to come in Australia, so I am keen to get back in the car to try them out.
Q. How are you finding the step up to Formula 1? Do you think you are making good progress?
PM: I am feeling better and better within the team and I am enjoying working to adapt the car to my driving style. It is really good.
Q. How is your fitness coming along?
PM: You can always improve your fitness if you keep training. I do lots of running and have also improved what I eat so I'm a bit lighter than I was which is good for the team. I am hoping being very light will help me this season!
Q. How does it feel to jump into a brand new car as opposed to the FW32, as you did in Abu Dhabi, which had a whole year of development behind it?
PM: Starting from zero is a bit different. Last year I just had to focus on myself and on improving lap by lap. Now we need to keep working together to develop the car as well, so there will be more of a job to do. The feeling in the team and with my engineers is good. I know it will be a really great season with them.
Q. Do you feel there is a lot of pressure and expectation on you?
PM: No, I don't have this kind of pressure. I do my best to understand everything, and to do the best job I can for the team. Our aim is to get the most out of the FW33. We will see what we can do at the first race but I feel ready. I am very happy for my country as they are pushing very hard for me and that is something special. I am here to do my job as well as I can and once I am in the car that is my only focus.
Q. How do you feel heading into your first Formula 1 race?
PM: It is going to be an exciting moment for me. I have been racing for many years and I have waited many years to be in F1 so sitting on the grid in Melbourne is going to be great. I am going to try to treat it like any other race though. My objective is to finish the race, if everything goes well, I don't see why we can't score points as well.
Q. What is your objective for the 2011 season?
PM: To learn, be really quick, do my best for the team and improve race-by-race.
Report - AUTOSPORT