After admitting to needing a second to fight on top, Mercedes introduced some of its final upgrades in today's test at Barcelona, and they left Nico Rosberg upbeat about the progress made.
The German talked to the press after his first taste of the new components.
Q. How important is this final week of testing for you, with all the final upgrades coming on the car?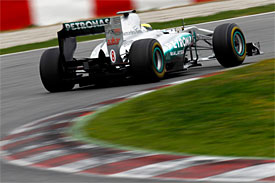 Nico Rosberg: It is very important. But today already we had a few bits and pieces of the upgrade which was randomly on the car - sometimes yes, sometimes no. And obviously it doesn't fit together well with the rest of the car, as most of the rest of the car is old, so there are bits and pieces coming - but there were glimpses of the performance gain, which seemed very impressive today.
So, that makes me very hopeful and I think they have done a great job with many of the things that are coming so with time now, as the days on, we will have more. If the weather is a problem then maybe we will not be able to run the full new spec at this test, on a dry track, because it is planned for later on in the week, but otherwise generally it has been okay.
I was learning today again on the Pirellis because it is different, very different, to the Bridgestones. It takes time to get your head around it set-up wise, even driving wise, and also with the KERS, with braking, it is very different. KERS has a big influence when you are braking, with the brake balance and everything, so you need to get your head around everything. So that was progress today.
But also it wasn't a great day because we had to two issues - one was the rear wing dropping out a little bit, and then bodywork coming off in the end which cut my day short. So in general it wasn't super testing day from that perspective, but it was okay.
Q. How keen are you personally to get some answers about exactly how good your car will be this year?
NR: I am just looking forward because I am looking forward to going quick. That is the whole point - and having a car that just feels that much better. That is something that you enjoy as a driver. So I look forward to that - and there were glimpses of that today which is always nice.
Q. We saw today that Sebastian Vettel did a 1m21.8s on a seven-lap run, and Sebastian Buemi did a 22.3s on a four-lap run, are these times that can be achieved with your car?
NR: For sure they are looking strong - but I am hopeful that we can progress a lot. It would not be realistic to say that we are going to beat them, but I definitely think we can make a lot of progress.
Q. Given the huge performance difference between the hard and the soft tyres, how difficult is it to find a compromise set-up that works for qualifying and the race?
NR: It is going to be very difficult for sure - and very interesting. What you do in qualifying and then how you race it - how much do you compromise qualifying in order to have that better tyre available for the race, as it will be very challenging on a Sunday. I think there is going to be a lot to learn and a lot can happen from that point of view.
Q. How were the new exhausts?
NR: They are looking good, yeah. For sure.
Q. It is halfway between the Red Bull solution and the Renault solution. Did it change things for you?
NR: That is one of the things where there is big potential for sure.
Q. What is your gut feeling on where the team is at right now?
NR: That is difficult. We expect a big step, so I can say that I am hopeful. I am positive.
Q. Of what?
NR: I don't know - hopeful...what we need to do is build on last year, yeah? That is where we need to be. We need to build on last year and move forward, and I am hopeful that we can achieve that.
Q. From the start of the season?
NR: Yeah, yeah - from the start of the season. It has been a challenging winter. A lot of things did not go to plan, and it wasn't easy. But the hours the factory has put in is crazy sometimes, so I am very thankful for that. But they have been rewarded because things are coming along. A lot of things have worked out now, so it is looking much better.
Q. So the feeling is a lot different today compared to the first day of the last test then?
NR: For example, yes for sure. I am more upbeat, yes.
Q. Turn 3 is a good place to judge the cars. The Red Bull is nearly flat through there, how is your car there?
NR: I am not flat there! But I had a lot of fuel...
Q. How is the car in that corner?
NR: In that corner, I think it is tyre related. In general, in high speed, there is understeer so that is one of the areas where there is quite a big difference to last year. Not a bad thing - just different.
Q. The GPDA is meeting with Charlie Whiting tonight to discuss the 2011 rules and moveable wings. What are your feelings on that?
NR: It is important that safety is not sacrificed - and we need to see if safety is a concern with the rear wing or not. Of course, one needs to ask the question. But I think generally they have done a good job with it. For example, today the wing was dropping out a bit today and that would not have happened if the rear wing was not moving.
The other thing is that with all the buttons and everything - it is important that it really does help and it really does improve the racing. Then it needs to be judged - if it doesn't improve the racing, is it worth keeping on? If it doesn't, then we need to take it off.
But there is a very good chance that it will improve racing. I am pretty sure that it will, and I think it is one of the best things that has been done for a very, very long time to improve the racing and make it more exciting.
Report By Jonathan Noble - AUTOSPORT