For a few minutes today it looked like Sergio Perez had turned the pre-season formbook upside down with a remarkable time for Sauber on the opening day of the final test... But then it became clear that he had cut the chicane on his best lap.
He was still fourth in the day one results, though, and he told AUTOSPORT he was very satisfied with how the build-up to his maiden Formula 1 season was progressing.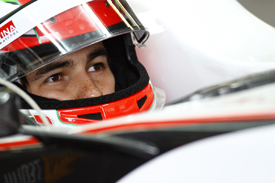 Q. You cut the chicane on the last lap. What happened there?
Sergio Perez: I was going too slow and decided to go fastest! No, I had some traffic, and I was short on time as well, so I tried to complete another lap because I was on new tyres. But I had some traffic, I think it was the Force India, so I had to cut the chicane.
Q. How do you feel now about the first grand prix?
SP: I am really looking forward to seeing where I am in Melbourne, because testing is a good experience, but I love to race. I get a lot more motivated when I am in a race weekend. So now I am looking forward to starting the season and being in a race weekend, and also to learning, because you learn a lot in qualifying and in the race situation. So I am looking forward to seeing where I am, and I am very confident that I will be quite competitive from my first outing.
Q. How ready is the car?
SP: I think we are getting there. I think we've got some good updates and we are getting there. Hopefully we can still do some work to improve the balance, but I am positive.
Q. Any idea where you fit in to that group of cars in the midfield?
SP: Not really. I don't think anybody has an idea. It's my first season in Formula 1, but what I hear from a lot of people is that nobody knows, and we don?t know where we are.
Q. Where would you like to be?
SP: I think I would be really happy if I could be top 10.
Q. Do you think that's realistic?
SP: I think it's achievable. I think we can achieve a top 10. This is our aim, to be in the points, and this is something we are aiming at.
Q. You have already spent a year racing against Kamui Kobayashi in GP2, so you have an idea of where you are compared to him in terms of pace. Will he be a benchmark for you this year?
SP: Of course. He will be my target, to beat him as soon as possible. I'm pretty sure it will take me some time, because Kamui is a very fast guy with quite a lot of experience - one year in Formula 1, and a few more as a test driver.
So he has experience, he knows exactly what he needs. So he has a big advantage over me, but I am confident that I will get there.
Report By Mark Glendenning - AUTOSPORT