Hispania yesterday completed the 2011 Formula 1 field by confirming that it had signed ex-Force India driver Vitantonio Liuzzi as its second driver for the new season.
The Italian met the press - including AUTOSPORT - at Barcelona today and explained why he was ready to put his faith in a team that had struggled so much in 2010.
Q. Are you prepared to change how you approach the season mentally - driving for a new team?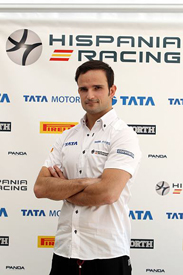 Vitantonio Liuzzi: Of course you need to change a little bit your point of view. Now, at the moment, for sure we are in a different situation. Now our target is to achieve as a team the 10th place in the constructors' championship, so for sure we know that points are not easy because the big teams are always there. But, my approach will be to support the team – give my experience and my speed and help them to develop as quick as possible and in the best way possible.
So, for sure you have to handle the season in a different way, but for sure you have to push 100 per cent to achieve the points and get into the top 10. It won't be easy, but our target is to finish 10th in the constructors' championship.
Q. There are only two days of testing with the new car before the season starts. Is it going to be tough to simply qualify for the first few races of the season?
VL: At the moment I have to say it is a question mark. Until we put the car on the ground we won't know. But I think all the numbers at the factory are really promising for a good start. For sure we have to work a lot in the next couple of days if we are able to put the car on the track on Friday, and to understand the car and set it up as best as possible.
What makes us think that we are in good shape is that also last year, with critical conditions, the team was really reliable and the car was really reliable. And it was just a problem of speed.
On the downforce side we are already much better than last year so we just have to hope that in terms of reliability we can copy the performance of last year. So, I have to say that I was surprised because there were some good people in the team who understand a lot about F1 – technicians, and engineers. It makes things more promising.
We just need to work twice as hard at the beginning because for sure we have to understand quicker the car. We know the rear end of the car is supported from Williams, with the engine being Cosworth – so we just need to put all the parts of the puzzle together. I think it will not be easy, but I think that the people in the team know what they are doing. We just have to work twice as hard in the next few weeks.
Q. How long were you speaking to HRT for, and was there a need to bring sponsorship on board?
VL: Basically we started speaking about this project from the middle to the end of January. That is when I knew that my situation with Force India was over. So, there was always a lot of respect from before with Mr [Jose Ramon] Carabante [team owner] and Mr [Colin] Kolles – so we always thought that something might happen in the future.
We didn't expect that it would be that quick. So, it was an easy conversation. It was just about finding the way to make it work, let's say. They made their choice and they pushed for me a lot. They made an investment for me and they made an investment on themselves – so it is good for both of us. It was an easy thing for both parties.
Q. Have you had to bring sponsors on board, or was the deal more straightforward than that?
VL: It is straightforward with the team. For sure the more sponsors that can come during the season the better it is...
Q. Were you worried over the winter at all that you would not get a job in F1, or were you always confident that something would come up?
VL: During the winter I never believed that something would not happen with Force India – but then after it all changed in the beginning of January. As I mentioned before, everyone knows about my situation and I was clear with them for 2011. Then they wanted to go for a different way – and it is okay for me. It is just that we had to move quickly after because in January everything was nearly done. I am really happy about this situation.
But everything looks promising. In the beginning it will be hard because for sure you have to restart from zero – the team is new and the project for the future is interesting as I am looking forward to a new challenge. I like tough things – I did it already before. I started with Red Bull the first year, Toro Rosso the first year, Force India the first year – and now it is just another new challenge.
Q. Last time you spoke in Barcelona you said that you had been thinking of doing something else other than F1. Do you think you have made the right decision?
VL: There are a lot of things that go through a driver's head. The only thing you want, from my point of view, is to drive fast and enjoy driving. So, this is my target.
When things stopped with my previous team, I put all the cards on the table and looked at what was the best condition. After my test with Hispania Racing two weeks ago I looked at the situation – and it was promising. That was one of the things that made also my mind closer to this decision.
When you look from the outside you don't know what exactly is in the team, but once I had the chance to test two weeks ago that opened my mind and helped me to take this decision to find an agreement with Mr Carabante because I think there are good possibilities for the future. It will just take time.
Q. Even though you have no chance of finishing on the podium or winning races, is it still better to be in F1?
VL: We all know, and it is well known, that when you come into F1 it is not easy to jump straight away into a McLaren or a Red Bull – and I always had tough experience because I started with new teams. It never worried me or scared me. I helped the development and pushed the team forward – it is about trust of yourself. I am good with myself and well prepared for a new challenge.
I always dreamed about F1 since I was a go-kart driver as a kid, so I want to have the chance to show what I can do. This is just a new part of my life and a new part of my career, and I will keep pushing until I get there.
Q. You have more experience and have raced more recently in F1 compared to Narain Karthikeyan, so do you consider yourself the senior driver?
VL: Narain is well known as a fast driver. The thing is that he did a lot of series, and was always jumping from car to car. He is a very versatile driver. I have a good relationship with him because I have known him since 2002 in my times of F3. We have a good relationship and I think it will be a good team combined, because I think in a way I have to push twice for the development because for him it will be more difficult as he has been away from F1 for a long time.
But, he has the speed to push me always at the maximum so we will push each other to the limit. In a way, I bring everything I can – that is my skill, experience, technical potential and I will try to do the best I can. Narain will try to do the same, but the fact that I have the most recent time in F1 then maybe I could have a bit more as I have got a reference.
Q. Now you have the HRT deal, does that change anything with the way you try and settle things with Force India?
VL: With Force India we are very close to finding an agreement. There is no issue at all. We had a friendly chat with Vijay Mallya. The team is not mine and everyone runs their toys as they want. So it is just the best solution to find a friendly agreement and to just go ahead.
Q. How are you and Narain splitting up the test of the new car?
VL: We will see when we are fully ready with the new car – then we will think about it. It is not a big deal how to handle that because we have left just a couple of days.
Q. How long is the contract for?
VL: At the moment we are looking to the future, and then we will see. I hope for as long as possible.
Report By Jonathan Noble - AUTOSPORT