Narain Karthikeyan faces the tough task of getting back up to speed in Formula 1 after a long absence this year while driving for a team that did not have a great 2010 season in HRT.
But the Indian is optimistic that both he and his team can prove a point this year. AUTOSPORT heard from him at the launch of the HRT F111 today.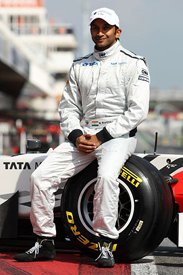 Q. What do you make of the new car?
Narain Karthikeyan: It looks right. The packaging looks pretty good. Obviously the rear end is pretty small and the detailing of the car is quite good. From where we started it's definitely going to be a step forward. Even without the double diffuser they've said that we've got more downforce.
Obviously we're not driving the car yet. They're trying to put the car together but I don't know when we'll be out.
Obviously it's going to be tough, there's no doubt about that. But I don't think it will be like last year. It's going to be a little bit better.
Q. How tough a start are you expecting, especially with the 107 per cent rule back?
NK: The 107 per cent rule, I think we'll be okay in Australia. Because of the new gearbox and electronics and everything, we're just seeing if it's going to be reliable or not. Every car when it's new it has its own gremlins and we don't know what they're going to be.
Q. How is your reacclimatisation going?
NK: I had two days in the wet and in the wet was fine, I was pretty fast. In the dry I'm still finding my feet a little bit. But with Tonio there it's a good reference. I think the driving styles are pretty similar from what I can see from the data we had. So I think overall give me a few races and I'll find my feet. I know I've been fast in the past so it shouldn't be a problem.
Q. Does the fact that everyone is on new tyres help you?
NK: It's been four years since I drove an F1 car and it's like starting afresh for me. I don't care, everybody has the same tyres and probably the problems are exaggerated with teams that have a lot more lateral force and more downforce. Last year's car was okay [on Pirelli], but that was from what I remember of the Bridgestones. I'll go with the flow.
Q. How much dry mileage have you had?
NK: Quite limited. I don't know exactly, but probably less than 1,000 kilometres. But it's encouraging to see from the data it wasn't too bad. The biggest thing is the braking, and that's pretty much there.
Q. How are you managing physically?
NK: Physically in the old car it was okay. But in the new car with more downforce I think once I've done two or three races it will be fine. I've been training really hard.
Q. What's an achievable target for you and HRT this year?
NK: Obviously there are a lot of good people who are designing the car, and we have the partners that are helping us. It's early days yet, but if everything comes together as a package, then you've got to aim to be best of the new teams. I'm just talking, but it could be a difficult task, I don't know, because nobody has driven the car yet. Having said that, the detail of the car looks like a proper, modern car so we're hoping it's okay.
Q. Is it better for you that the Indian Grand Prix is nearer the end of the season?
NK: Yeah, both the team and myself should be okay. We'll be fine.
Q. News of your return came as quite a surprise...
NK: Honestly I was going back to NASCAR. But Colin [Kolles] and I have known each other since 1999, and he said there was a possibility. I saw the plans and quite quickly things changed. It's a good time to come back, because I've worked pretty hard to get where I am. I hope for the best.
Report By Jonathan Noble - AUTOSPORT