Nick Heidfeld had to call a halt to his test day with Renault at Catalunya this morning due to lingering illness.
But he was still well enough to talk to the media, so AUTOSPORT caught up with him to hear how things were going at Renault
Q. First of all, what's wrong with you?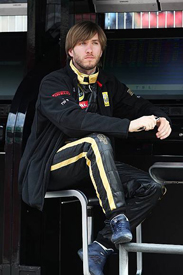 Nick Heidfeld: Nothing. I'm just a bit ill. The doctor said it would be gone by now, but it's lasting a bit longer than I'd hoped.
Q. How is it affecting you?
NH: I don't feel good in the car. We are here for four days anyway, so I'd prefer to rest a bit today and tomorrow and then do one-and-a-half days on Thursday and Friday.
Q. Most of the new parts are not in the car yet, so presumably it's better for you to be in it towards the end of the test anyway?
NH: It was planned that I would do day one and day four, so there are no major changes there. We already have some new parts on the car on the aero side - we have a new floor and a new rear wing, and that's what I tried this morning. My feeling was that it was positive. We also did some check runs to do some measurements and we are still analysing that, but everything looks like we assume.
Q. You came out of the Jerez test quite positive, and then were a bit puzzled here when things did not go as you expected...
NH: It's a lot better. The comment you referred to was after half a day here in Barcelona, and I didn't have a lot of time to change the car. By the end of the previous Barcelona test, I was happy. The balance wasn't as good as Jerez, but it was okay. With the changes and updates we have for here, it's even better. I think it is a good balance to have for so early in the season.
Q. What did you make of the pace of the Red Bull this morning?
NH: It's not surprising at all, and I think they are still not showing everything. If you look at the sector times, they still have something in their pocket. So from the sector times at least, there might be even more that they are not showing. I still think that they are leading the pack at the moment. By how much? That is the question.
Q. Where do you expect to be in Melbourne?
NH: I honestly don't know. Of course we make some assumptions, I have my theories, but they are not good enough to share them with you. I really don't know, other than I believe that the Red Bull is quickest, Ferrari seems in good shape pace-wise and also reliability-wise, and it also looks like Toro Rosso have made a big jump forward. McLaren is a bit difficult to evaluate, and I don't want to speak about where we stand.
Q. In terms of reliability, are you happy with the way things have gone?
NH: No, I am not happy. You are only happy if you don't have any problems, and we have had too many, which cost us too much testing time. That's crucial this year, with such limited running, and new systems and new tyres. The positive thing is that none of those problems look as if they can't be solved before the first race.
Q. Do you feel as if you are going into the first race a bit blind, because of the tyres and not having testing in hot weather? Is that a concern as well?
NH: I would not call it a concern. It's definitely an unknown, but it is an unknown for everybody and we just have to cope with the situation. But it's true, we don't see a lot of improvement on the circuit, we see a lot of marbles on the track, and Pirelli thinks that maybe with hotter temperatures that might change. But we will only find out later in the season. Maybe not even in Australia, because sometimes it is cold there as well.
Q. Pirelli has mentioned the possibility of giving the teams experimental tyres for the Fridays. Would you be in favour of that?
NH: It depends on how good we look at the first races. If we are very strong and we seem to get along better with the tyres than others, then no. This is very clear. On one side you always like to have better tyres and a quicker car and all that, but if it suiting you well then you don?t want to change it.
Why I like this idea from another perspective is because we will not do a lot of driving. We have seen in testing that the tyres don't last very long compared to the Bridgestones, and it's not going to be the best thing for the spectators. On Friday for the first session we have one set of tyres, so you will not see a lot of driving. That is what I am more worried about, for the people who are watching.
Q. Do you think we might be surprised in a few areas when the season starts?
NH: I think we might be surprised in the pecking order, because that is more difficult than ever to know. And there might be some differences in the tyre life depending on the temperatures. I think the teams now after the testing and race simulations know that we will have a lot more stops, but I think it's going to be new for the spectators, and also new strategy-wise.
You can try to simulate and calculate a lot of things, but as we've seen in the past, things change. In the first races people go with different strategies, but after four races or so, everybody knows what to expect. This is what will be interesting at the beginning.
Q. Obviously everybody will be trying to keep as many tyres for the race as possible, so does this mean we'll see one-shot qualifying?
NH: It totally depends on the pace of your car. The difference between the tyres is clearly bigger than it was with Bridgestone, so even the quicker cars might need to take the option tyres whereas in the past they might have gone through on the hard tyres. Now the difference is so big that maybe they will have to use [option] tyres earlier.
Report By Mark Glendenning - AUTOSPORT