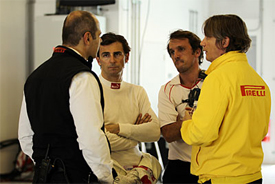 Pirelli's motorsport chief Paul Hembery has thanked Pedro de la Rosa for his contribution to its testing programme, and says the tyre firm will soon announce a replacement for the Spaniard.
De la Rosa is returning to his former role as a McLaren reserve, which he left at the start of last year to race for Sauber.
The Swiss team subsequently dropped him in favour of Nick Heidfeld, but de la Rosa was able to pick up the German's previous role as development driver for Pirelli's 2011 Formula 1 tyre programme.
"We'd like to thank Pedro for all his valuable work with us and wish him the very best for the future," said Hembery. "It's a shame that we won't be able to benefit from his experience any more in 2011, but we will be announcing our new test driver shortly.
"It seems that every time Pirelli employs a test driver, they become immediately more attractive to Formula 1 teams - so maybe we should look at taking a commission on their future earnings from now on!"
Report By Matt Beer - AUTOSPORT