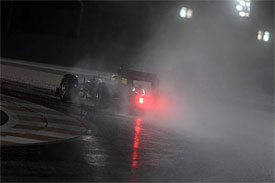 Formula 1 tyre supplier Pirelli has backed Bernie Ecclestone's idea of introducing artificial wet races in a bid to increase excitement in the sport.
Ecclestone put forward his radical idea this week, suggesting that the suspense created by using sprinklers to wet a circuit mid-race would be a much better way of improving the show than having moveable rear wings.
"There are race tracks that you can make artificially wet and it would be easy to have such systems at a number of tracks," Ecclestone told the official F1 website.
"Why not let it 'rain' in the middle of a race? For 20 minutes or the last ten laps? Maybe with a two-minute warning ahead of it. Suspense would be guaranteed and it would be the same for all."
Ecclestone's idea may have divided opinions among fans, but tyre manufacturer Pirelli believes that such a move would be great for F1.
"I thought Bernie Ecclestone's comments were quite interesting," Pirelli's motorsport director Paul Hembery told AUTOSPORT.
"Straight after our recent successful [wet-weather] Abu Dhabi test I saw him and said, 'why don't we do an artificial wet race?' The technology is such that you can wet a circuit with a sprinkler system, so the idea is not as daft as it sounds.
"Having seen what it was like in Abu Dhabi, certainly with a wet element it would look spectacular - and visibility shouldn't be a problem because there would be no clouds.
"From a tyre makers' point of view, there is no difficulty in making suitable tyres. We have seen great races in the past when you have had an extra variable like the weather, so why not?"
Although the introduction of artificial wet races could be viewed by some as too much of a gimmick for F1, Hembery believes that the sport should be looking at avenues where it can increase entertainment - and he thinks there are other gimmicks that have become accepted as the norm.
"At the end of the day you want people to watch what you are offering," he said. "F1 ultimately competes for entertainment space with other sports - so people need to see something that is interesting.
"From that point of view, an artificial wet race would add to the show - and you want something people will watch.
"A good example of a radical idea in the sport that have been accepted is the Singapore Grand Prix. You could argue that running at night under lights is a gimmick. But it has turned out to be one of the most spectacular races of the season. It is stunning.
"Couldn't you in fact argue that a street circuit itself is gimmicky? After all, you have created a circuit out of normal roads."
He added: "I would agree that something fake like throwing in safety cars frequently to close the field up if they got too spread out would be going too far, but in terms of throwing something of a new challenge, like an artificial wet race, at drivers, tacticians and engineers, it would be great."
Pirelli conducted several days of wet weather night running at Abu Dhabi earlier this year to simulate the kind of conditions they could encounter in the early-season Asian races.
The Italian tyre manufacturer soaked the circuit itself to simulate rainy conditions.
Report By Jonathan Noble - AUTOSPORT