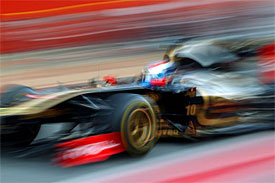 Vitaly Petrov says it is impossible to tell how strong his Renault team based only onits winter testing form.
Although the team has been showing promising form during testing, Petrov reckons the only clear sign is that the Red Bull team is very competitive.
The Renault driver concedes judging the rest of the field is impossible before going racing.
"It's difficult to say because nobody is running low fuel," said Petrov. "Maybe we didn't. It's difficult to say where I am and where another team is. Red Bull still looks quite strong, but the rest, I don't know."
The Russian admitted he feared the car was not good when he first tested it, but conceded he is now feeling a lot better about it.
"In the beginning on the first day of testing I was not happy about the car. I was thinking I was in the s*** maybe, because it was really difficult to drive with these tyres. If the car started to lose the rear, you couldn't control it because it was so quick.
"With the Bridgestone you could control it, you could slide, do a rally a little bit, you know? But with these tyres, if it comes, it comes quite quick and it's difficult to control.
"But now that we have a lot of new aero parts and a lot of other new things it is getting better and better. I think after a few grands prix we will have more parts coming and it will be much better."
Report By Mark Glendenning and Pablo Elizalde - AUTOSPORT