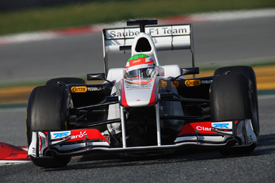 Sergio Perez set a surprise fastest time for Sauber on day three of Barcelona testing, as the Swiss squad interrupted Red Bull's dominant week.
There was no doubt that the Mexican's 1m21.761s - even quicker than world champion Sebastian Vettel's Wednesday lap - was done on a low-fuel qualifying simulation, as Perez went through a string of one-lap runs during the morning, but the pace was still impressive regardless of the car's configuration. A later race-style run was interrupted by a KERS problem and Perez also caused a late red flag by stopping at the pit exit.
Felipe Massa's second place time for Ferrari, 0.331 seconds down on Perez, was also achieved on a single lap outing just a few minutes after the Mexican's lap, so Sauber could be very content with its day. Ferrari also achieved impressive mileage again, Massa leading the day's lap count with 127.
Red Bull was only third this time, with Mark Webber's best of a 1m22.466s coming on a relatively light but not totally empty run - the Australian staying out for a further four laps after putting in that time. It came during a fascinating phase of the morning when both Red Bull and Ferrari kept doing short runs almost in unison and setting comparable times, as testing briefly resembled a pole position battle.
Rubens Barrichello twice pulled off and caused stoppages, but the Williams still managed to cover 105 laps and go fourth-fastest with a 1m22.637s on a qualifying-style run.
Mercedes also set its best time on a very short stint. The team mostly ran heavier fuel loads as it worked to get a baseline with its new exhaust design before adding the rest of the major upgrade package for the second half of the test. But Michael Schumacher also slipped in a 1m22.892s on a single-lap run to complete the top five.
Lotus split its day between its two race drivers - which worked out much better for Heikki Kovalainen than Jarno Trulli. The Italian only completed six laps before a gearbox change was required, and then a water leak prevented any further running. A slight water leak remained for the afternoon - a replacement radiator having been damaged in transit - but Kovalainen was able to do 39 laps and take seventh.
It was a similar story at Renault, as a KERS problem limited Vitaly Petrov's mileage in the morning, though he still covered 24 laps and did a time good enough for eighth before Nick Heidfeld - back after his illness earlier in the week - took over and grabbed sixth in the secnd session.
Force India and Toro Rosso focused on mileage and longer runs, and yet more pitstop practice in STR's case, as Adrian Sutil and Jaime Alguersuari both exceeded 100 laps in ninth and 10th. Jerome D'Ambrosio again brought up the rear for Virgin.
Pos  Driver              Team/Car              Time       Gap        Laps
 1.  Sergio Perez        Sauber-Ferrari        1m21.761s             95
 2.  Felipe Massa        Ferrari               1m22.092s  + 0.331s   132
 3.  Mark Webber         Red Bull-Renault      1m22.466s  + 0.705s   97
 4.  Rubens Barrichello  Williams-Cosworth     1m22.637s  + 0.876s   105
 5.  Michael Schumacher  Mercedes              1m22.892s  + 1.131s   89
 6.  Nick Heidfeld       Renault               1m23.541s  + 1.780s   32
 7.  Heikki Kovalainen   Lotus-Renault         1m23.990s  + 2.229s   40
 8.  Vitaly Petrov       Renault               1m24.233s  + 2.472s   24
 9.  Adrian Sutil        Force India-Mercedes  1m24.334s  + 2.573s   108
10.  Jaime Alguersuari   Toro Rosso-Ferrari    1m24.779s  + 3.018s   107
11.  Jerome D'Ambrosio   Virgin-Cosworth       1m27.336s  + 5.575s   96
12.  Jarno Trulli        Lotus-Renault         1m34.485s  + 12.724s  6

All timing unofficial

Report By Matt Beer - AUTOSPORT