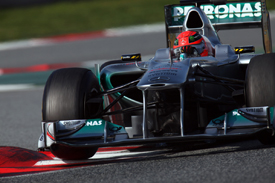 Mercedes GP is bullish that the definitive upgrade package that will be fitted to its car for the final two days of Barcelona testing will be enough to lift it back into contention for race wins this year.
The parts - which include a new front wing, revised brake ducts and improved bargeboards - have delivered good results in full-scale windtunnel tests that the team has conducted so far.
The upgrade package is scheduled to arrive at Barcelona on Thursday night and will be evaluated by Michael Schumacher for the first time on Friday. The team has already tried out a new exhaust system, floor and turning vanes so far this week.
And although the Brackley-based outfit has been low-key with its performance through winter testing so far, and faced its fair share of reliability and pace concerns, confidence is now increasing about its prospects for the season ahead.
Schumacher thinks he does not yet have a car that is ready to take on Red Bull Racing to fight for a win on pure pace – but team principal Ross Brawn thinks that cannot be ruled out completely.
Speaking about whether he felt the new Mercedes GP was a race winner, Schumacher said: "We clearly know that Red Bull are very strong, and they are the team you have to look at.
"At the moment I guess we're not quite in this position, but I wasn't expecting to be in this position right now. The season is long and there is a big question mark as to who is coming behind, and I hope we play a sufficient role in that."
When asked about Schumacher playing down the chances of fighting for wins early on, Brawn said: "I think it is still very difficult to judge where everybody is at the moment.
"We felt we have been a bit behind and the improvements we are introducing should put us in a competitive position, but you never know what the other teams are going to do, or what steps they have made.
"So I think we will be pretty respectable in Melbourne, but I honestly don't know where people are at the moment because I don't know what fuel loads people are running.
"I know what we are running, and we are trying to run a sensible programme, so it is a very difficult thing to judge. This afternoon we ran lower fuel, not empty, but we look like we were the only people who ran lower fuel in the warmer temperatures. It has been quite difficult to judge where everybody is, so I hope we can prove Michael wrong."
Brawn said the team's plan from the beginning of testing was to focus on reliability in early running, before switching attention to speed for this week's final test.
And knowing the promise that the upgrade package brings, he reckoned Mercedes GP was heading into the campaign with the car that it hoped to have had from the off.
"The car is doing what we expected it to do, yes. It is doing exactly what we expected - the lap times and the aero performance are where we are – but what you never know is what other people have achieved.
"What you know is what you have achieved, and the car is behaving and performing in line with exactly what we expected. We look at the aerodynamic numbers and what we see in the windtunnel, and they are what we expect to see.
"You tend to work in isolation when you are designing a car, but you don't know where it is going to sit in the league table of cars when you start running, but the car is where we expected it to be."
When asked if he thought the car was better than last year's W01, he said: "Yeah."
Brawn believed it was natural for teams chasing the front to occasionally trip up in the quest to find more speed, but he said he had seen nothing from pre-season favourite Red Bull Racing in testing that left him worried for the season ahead.
Speaking about who he felt Mercedes GP's early-season rivals were, Brawn said: "You get a picture and, having been in the fortunate position of having some years been a reference point for teams and other years trying to catch up – when you are the reference point you proceed a little bit cautiously. You don't want to spoil what you have.
"When you are not the reference point you work hard and maybe you are bit more adventurous and aggressive in what you do, and that is why it never stays the same all the time.
"That is why if a team is dominating it doesn't dominate forever because of its natural conservatism, but in trying to catch up the others sometimes trip over, and that is all part of the fascination of our business.
"Red Bull has clearly gone into this year in quite a strong position and that is who I anticipate will be our reference point in the early point of the season – that is who we have to beat to win races. So that is my judgement, but I don't think it is unachievable and things change quite quickly in F1.
"Plus the racing is going to be quite fascinating with the tyres and all the other new factors – the rear flap adjuster, KERS, all these things coming in. So it may not be the fastest car that is winning the early races."
Report By Jonathan Noble - AUTOSPORT