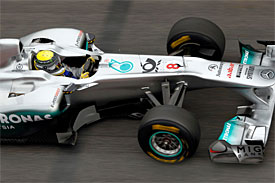 Mercedes GP is hopeful that it will be in 'reasonable' shape by the time the season starts in Australia - despite the struggles it has faced so far in early testing.
The new W02 has not been a match for early favourites Red Bull Racing and Ferrari in testing, and its hopes for a step forward in performance are pinned on an upgrade package that it is bringing to next week's final pre-season test in Barcelona.
Although the team readily admits that its running so far has not been as good as it had hoped, its CEO Nick Fry said on Thursday that it was too early to write off its campaign.
"Performance, obviously from what we've seen on the track, at the moment is not as good as we would like," Fry told news agency Reuters. "But I think there are two major reasons for that.
"One is that the car did have some cooling issues and has been running with a very sub-optimal cooling package and aerodynamic package, and that is (worth) a significant amount of (lap) time.
"Secondly, we went in (to testing) with a slightly different strategy of having what we called the basic car to start with and what we think will be a significant upgrade for the first race. So we knew we were going to be not the quickest, let's put it that way.
"We are not panicking, we have a plan, we're sticking to it and I think that we will be in a reasonable shape by the time we get to Australia."
Fry was hopeful that the development steps coming for Barcelona – believed to include a revised exhaust package, and new front wing, bargeboards and sidepods would see a lift in Mercedes GP's form.
"There will be some differences in Barcelona as well. I think you will see an improving trend and we are far from panicking. Michael understands the situation and all racing drivers want to be the fastest from the start. That's in their nature."
As well as the pace and reliability problems that Mercedes GP has suffered, there has also been speculation that the team has faced troubled passing the FIA's mandatory crash tests that it needs to do to race with a new exhaust configuration.
Mercedes-Benz motorsport boss Norbert Haug told this week's AUTOSPORT that he did not believe the team would have an issue getting those tests completed
"We will not comment on that," he said when asked if the team had passed the tests yet. "But that should not be a hurdle for us."
* For a full analysis on the situation at Mercedes GP and the problems the team is facing with its car, see this week's AUTOSPORT here.
Report By Jonathan Noble - AUTOSPORT