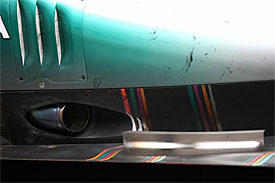 Mercedes GP has elected to take a step-by-step approach to delivering its Melbourne Grand Prix upgrade package at this week's Barcelona test.
With the new W02 featuring a revised exhaust layout and other bodywork tweaks during Wednesday's running, the team has confirmed that further updates are scheduled for the next three days.
Although the team has not confirmed exactly what these updates will be, they are believed to include revised sidepods, front wing and perhaps further tweaks to the exhaust configuration. The team is testing from today until Saturday.
Mercedes-Benz motorsport boss Norbert Haug said on Wednesday that the team was not going to rush through the upgrades simply to chase times on the first day - and that it was comfortable with its plan for the final week of pre-season running.
"We are taking a step-by-step approach," he told AUTOSPORT. "We have a different exhaust treatment and some revised bodywork today - and there will be more changes to come."
Mercedes GP is not the only team introducing a revised exhaust layout configuration at Barcelona, with Ferrari also featuring an exhaust channel at the rear of its car to flow air into the outer edges of the diffuser – as Red Bull Racing has done with its new RB7.
Report By Jonathan Noble - AUTOSPORT