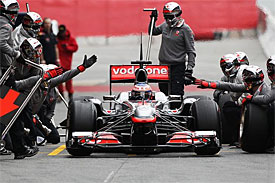 The McLaren team has decided to skip Thursday's testing session at Barcelona and will instead finish its programme on Saturday.
Instead of testing for four consecutive days like its rivals, McLaren will be running today and tomorrow and then will be back on Friday and Saturday, skipping Thursday's test.
The team said there was no particular reason for the move other than just spreading its resources better across the five days.
Jenson Button is driving today and on Friday, with team-mate Lewis Hamilton taking to the track on Wednesday and Saturday.
Report By Jonathan Noble and Pablo Elizalde - AUTOSPORT