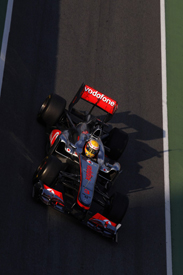 Lewis Hamilton says his McLaren car's main issue is a lack of downforce, although the Briton is hopeful the team will be able to sort some of its problems before the start of the season.
McLaren's new challenger has not been among the strongest during winter testing so far, with the team also hindered by problems that have not allowed its drivers to run as much as hoped.
Hamilton said the MP4-26 was not as bad as the team's 2009 machine, with which he struggled at the start of the season, but admitted it is currently lacking performance.
"The '09 was terrible because the car was hopping, three-wheeling through corners, it was locking up, and it had no downforce," Hamilton told Reuters.
"This doesn't lock up, it doesn't three-wheel and it handles really nice, better than last year's car, but it just doesn't have as much downforce...so that's where it feels weak.
"Hopefully we've got some more downforce coming onto the car before the first race."
Team-mate Jenson Button also conceded he was not blown away when he first drove the car, but he too is confident there is more performance to extract from it.
"When I first jumped in it (the car) the first reaction was not 'Wow, we're going to blow everyone away'. No," Button told Reuters.
"I don't think anyone would have felt that because it's got a lot less downforce, the tyres are working very differently to the previous tyre.
"But there's nothing that really scares me about the car in a negative way, so there's a lot we can improve with this car through general set-up work."
Button is also hopeful that the four-day test at Barcelona next week will help McLaren solve its problems.
"This year, at the moment, we've had some issues in testing in terms of getting parts to the circuit and a couple of reliability issues, so we've not done as much running as we would have liked, which has hurt our set-up work," said Button.
"But we do have four days and hopefully everything's going to run sweet at the next test, and we get a lot of laps in and we can improve the base that we have.
"There's a lot still to extract from this car that we haven't because we just haven't had time to do it, we haven't got everything together yet, so we don't really know where we are compared to the competition."
Report By Pablo Elizalde - AUTOSPORT