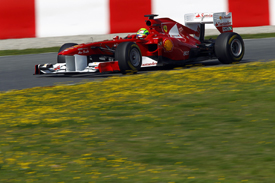 Felipe Massa says the upgrade package that Ferrari has brought to this week's Catalunya test has definitely improved the car, but he still believes Red Bull is the team to beat.
Ferrari has aerodynamic modifications and an altered exhaust at Barcelona, and Massa said the new parts offered a clear step forward.
"It's better, just more downforce on the car, and the more downforce you have, the better, especially with these tyres that degrade quite a lot," he said.
"It was a big package. It works well. I think it will be more or less the package for the [first race].
"So now we're working hard for the next improvement, as we know how important that is during the championship.
"But what we brought here was an improvement and the car is just better - better grip, better downforce."
He said he would still pick Red Bull as the favourite going into the new season.
"First of all it's the team who won last year," said Massa. "And second, they are very quick here. Yesterday Sebastian did a very quick time. So I point to Red Bull."
Asked whether he felt testing had proved Ferrari could match Red Bull on longer runs even if the latter was quicker on a single lap, Massa replied: "That was the case last year, but last year they had a very quick car so even if we improved more in qualifying compared to the race it was not easy to beat them.
"This year it's a little bit more difficult to know, because I saw some long runs from them - degrading as well, but it was quick even at the end.
"So I think it's very difficult to say now. We need to wait until we have everybody together at the same time with the same fuel, the same tyres."
Report By Dieter Rencken and Matt Beer - AUTOSPORT