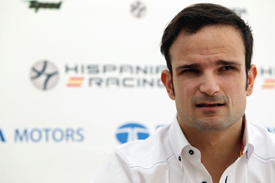 Tonio Liuzzi says he is keen to build a future with Hispania, and believes the team has plenty of potential to improve on its back-of-the-grid 2010 form.
The new HRT F111 will not be unveiled until tomorrow lunchtime, giving it just one and a half days of testing before the 2011 season.
But Liuzzi - who has joined HRT after losing his Force India seat - says the Spanish team is a good long-term option.
"When things stopped with my previous team, I put all the cards on the table and looked at what was the best condition," he said. "After my test with Hispania Racing two weeks ago I looked at the situation - and it was promising. That was one of the things that made also my mind closer to this decision.
"When you look from the outside you don't know what exactly is in the team, but once I had the chance to test two weeks ago that opened my mind and helped me to take this decision to find an agreement with [team owner] Mr [Jose Ramon] Carabante because I think there are good possibilities for the future. It will just take time."
Asked how long his contract with HRT was for, Liuzzi replied: "At the moment we are looking to the future, and then we will see. I hope for as long as possible."
He believes the team can target 10th place in this year's constructors' standings, but acknowledges this will be tough to achieve and a different experience to fighting for regular points with Force India last season.
"For sure you have to handle the season in a different way, but for sure you have to push 100 per cent to achieve the points and get into the top 10," said Liuzzi. "It won't be easy, but our target is to finish 10th in the constructors' championship."
The Italian added that he was not daunted by the prospect of joining a team that had been slowest of all last season.
"We all know, and it is well known, that when you come into F1 it is not easy to jump straight away into a McLaren or a Red Bull - and I always had tough experience because I started with new teams," Liuzzi said.
"It never worried me or scared me. I helped the development and pushed the team forward - it is about trust of yourself. I am good with myself and well prepared for a new challenge."
Liuzzi also confirmed that he has parted company with former manager Peter Collins and will work with Enrico Zanarini from now on.
"I am really grateful for sure for Peter," said Liuzzi. "He has been great for me and we are still good friends."
Report By Jonathan Noble and Matt Beer - AUTOSPORT