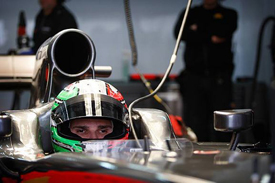 Tonio Liuzzi says "all the elements" are in place for him to be confirmed as Hispania's second driver for 2011.
The Italian tested for the team at Catalunya last month but as yet there has been no announcement about whether he will race with the squad.
But Liuzzi is confident a deal is imminent.
"There's no contract yet, but they need an experienced driver while I'm free after the Force India split, so the elements are all there," he told Autosprint.
He said HRT wanted to sign him rather than seeking a funded driver because it is keen to drive performance forward this year,
"I think they have done their maths and figured they need someone able to develop the car," said Liuzzi.
"Just taking it around the track is useless. Experience is good for a team's image and potential for the future. When the results arrive, then you can think about TV rights and sponsorship money.
"Let's just say that there is a reciprocal effort, also on my part and my management's, for each party to make some contribution."
The ex-Force India driver felt he was able to improve Hispania's uncompetitive 2010 car in the single test day he had last month.
"When I got in the car I noticed that the balance was poor," Liuzzi said.
"However, during the rest of the day, we made many modifications and by the afternoon we had a well-balanced car. The rear end was very good, you could drive it well.
"Obviously, there's no doubt it lacked aerodynamic load, that's the main reason why it wouldn't go quick. But I know that the new car, despite the lack of a double diffuser, is already better than the old one in this aspect."
Liuzzi reckons beating Lotus and Virgin to 10th in the constructors' championship this year is a tough but realistic goal for Hispania to chase.
"My objective is to build around me a team that can put a 100 per cent effort to get ahead of our natural rivals, that is Virgin and Lotus," he said.
"There's no point dreaming of something more: the team is small and the budget is limited. Tenth place in the constructors' championship remains our objective and I know it won't be easy.
"But, among the team's people and technicians, I've seen the right elements to build what I call a pyramid, that is a work method."
Report By Michele Lostia and Matt Beer - AUTOSPORT