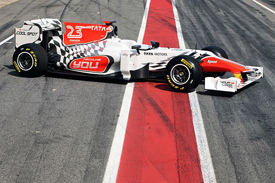 Hispania team boss Colin Kolles believes his squad can capitalise on any chaos early in the season as the field gets used to the new tyres and rules.
The new HRT F111 was unveiled in the Catalunya pitlane today and is unlikely to run until tomorrow as its dampers are still in customs.
But despite that lack of mileage, Kolles said HRT's focus was on being ready to take chances if faster teams slip up.
"We know that we don't have the quickest car. That's very clear," he told AUTOSPORT.
"We can discuss how to take the risk and get one tenth more on something. This is not our strategy, our strategy is to be reliable, to finish races, to have experienced drivers to take advantage of certain situations.
"I hope the racing will be quite interesting with the tyres. Maybe on one lap we will be not as fast as others, but let's see how this develops through the race - how many pitstops others will need, how many pitstops we will need."
Kolles is confident that the new HRT is notably faster than last year's car, but unwilling to predict where it will fit into the pecking order.
"If I open my mouth too much now it's not good. I don't know," he said.
"I think that our car is quicker than last year's car. Significantly. We have a Williams rear end, we have a Cosworth engine - this is a package you can get into the top 10 in qualifying, and finish sixth in the championship. There is nothing wrong there.
"We have an improved aero package so everything looks more promising. We have drivers with much more experience so this should all be better. On paper it looks better, I think."
Kolles expects recent signing Tonio Liuzzi to make a major difference to HRT with his experience.
"I think that Tonio is one of the best drivers in terms of giving feedback to the engineers," said Kolles. "I think what he did in Barcelona at the last test was an amazing job because I know how much fuel there was on and I know what would have been possible."
He believes taking a driver like Liuzzi rather than seeking someone with sponsorship will prove to be a key step for Hispania, as he credits the Italian for taking their former team Force India forwards.
"I think that when the shareholders understood this strategy at Force India and took Liuzzi and took [Giancarlo] Fisichella and kept [Adrian] Sutil, this is where the team has made a step," Kolles said.
"Drivers like Liuzzi and Fisichella, they contributed a lot to bring the right feedback, to take a step forward. Obviously the engineers had to also do their job, like the whole team."
Hispania's current colour scheme contains several areas left blank in the hope of attracting further sponsors, but Kolles denied that funding was a major concern.
"There is a budget that has been signed off, and we are working according to this budget," he said. "We plan to have updates, we have a development programme. So let's see how it develops.
"Obviously you have to work every day and every night to get more money into every team - not only our team, any team. If somebody's telling you that they don't need money, they are lying."
Report By Jonathan Noble and Matt Beer - AUTOSPORT