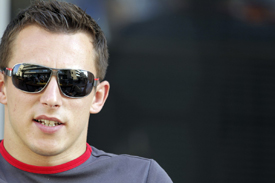 Christian Klien says he is still pushing to secure the second Hispania seat alongside Narain Karthikeyan, despite Tonio Liuzzi appearing to be the leading contender for the drive after his recent test for the team.
HRT openly admitted that Liuzzi's test at Catalunya was a step towards a possible race deal for the ex-Force India driver, but Klien - who drove for Hispania in several grands prix last year - says he has not given up on staying with the team and beating Liuzzi to the final vacant seat in the 2011 Formula 1 line-up.
"My manager Roman Rummenigge is in permanent contact with the team's management," said Klien in an interview for his personal website. "Needless to say I would love to drive for HRT."
He is confident that the new F111 - which makes is scheduled to hit the track at Barcelona next week - will bring the team forward after spending 2010 firmly at the back of the field.
"I am convinced the team will make good progress and surprise a few people," said Klien. "In Geoff Willis and chief designer Paul White they have engineers who know very well how to build competitive racing cars. I would love to develop it further. And they are masters of efficiency like no other team on the grid."
As the 2011 car has not yet made its debut, Klien does not think he is at any disadvantage from not testing over the winter.
"All tests were done with the 2010 car, which I have raced on five weekends last season," he said. "Together with the race engineers I did a lot of set-up work on it to improve performance. At the end of the season we were able to close the gap to the other teams although there was not a single new part all year long.
"Other drivers like Tonio or Giorgio Mondini have no experience in this car. From a team's perspective it is only justified to get as much feedback as possible and test other drivers' work."
The Austrian is also relaxed about the new car's late debut.
"Each day matters," Klien admitted. "But if you look back how this team rose from the ashes of another operation at the beginning of 2010, you will have no doubt HRT will make the most of its limited resources in 2011. They have a solid and analytical way of facing challenges."
He added that he found it ironic that he was in competition with Liuzzi for the Hispania seat, as they had shared a Red Bull drive in 2005. On that occasion the team chose to stick with Klien for the majority of the season, leaving Liuzzi on the sidelines.
"Yeah, funny, isn't it?" said Klien of being up against Liuzzi again. "At Red Bull we were both members of the groundbreaking 'seat sharing' model. But Tonio and I have remained good friends over the years. As usual we phoned after his HRT test.
"Last summer I was given an extra ticket for the football Champions League final in Madrid. Of course I invited Tonio to come with me, which he did happily. No matter who gets the drive, it will not change our good and respectful relationship."
Report By Matt Beer - AUTOSPORT