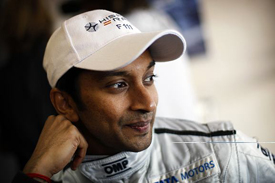 Narain Karthikeyan is optimistic that it will only take him a few races to get back up to full speed after five years away from the Formula 1 grid.
The Indian has made a surprise F1 comeback with Hispania this year. He last raced in the world championship with Jordan in 2005, though he tested with Williams until 2007. He has since raced in a variety of categories including NASCAR Trucks, A1GP, Superleague Formula and the Le Mans Series.
He had a few days of winter testing in HRT's 2010 car to reacclimatise, and thinks he will benefit from having the experienced Tonio Liuzzi to work with as his team-mate.
"I had two days in the wet and in the wet was fine, I was pretty fast," said Karthikeyan. "In the dry I'm still finding my feet a little bit. But with Tonio there it's a good reference. I think the driving styles are pretty similar from what I can see from the data we had.
"So I think overall give me a few races and I'll find my feet. I know I've been fast in the past so it shouldn't be a problem."
Karthikeyan is also confident about his fitness.
"Physically in the old car it was okay," he said. "But in the new car with more downforce I think once I've done two or three races it will be fine. I've been training really hard."
The 34-year-old shares his team's confidence that the F111 will be a significant step forward over last year's Hispania, which was generally the slowest car in the field.
"Obviously there are a lot of good people who are designing the car, and we have the partners that are helping us," said Karthikeyan. "It's early days yet, but if everything comes together as a package, then you've got to aim to be best of the new teams.
"I'm just talking, but it could be a difficult task, I don't know, because nobody has driven the car yet. Having said that, the detail of the car looks like a proper, modern car so we're hoping it's okay."
Report By Jonathan Noble and Matt Beer - AUTOSPORT