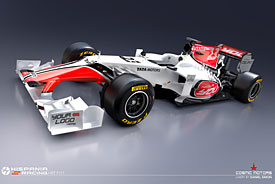 Hispania Racing's new car is now expected to make its track debut at Barcelona on Friday after its maiden run was delayed.
The Spanish squad was expecting to have the car - the F111 - ready today or tomorrow, but the team confirmed to AUTOSPORT on Wednesday that it will run for the first time on Friday.
Hispania said Indian Narain Karthikeyan and another unnamed driver will be in charge of testing duties on Friday and Saturday.
The team is yet to confirm its second racing driver, although Tonio Liuzzi said on Tuesday that a deal with the team was imminent.
"There's no contract yet, but they need an experienced driver while I'm free after the Force India split, so the elements are all there," he told Autosprint.
The F111 has been designed by a group of engineers led by Geoff Willis.
Report By Pablo Elizalde - AUTOSPORT