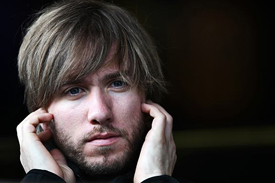 Renault driver Nick Heidfeld believes Red Bull still has not shown its true hand in testing.
Red Bull's Mark Webber set the quickest lap of Barcelona testing so far as the second week of running at the track got underway this morning, but Heidfeld reckons there is even more to come from last year's champion team.
"It's not surprising at all, and I think they are still not showing everything," he told AUTOSPORT when asked about Red Bull's pace.
"If you look at the sector times, they still have something in their pocket. So from the sector times at least, there might be even more that they are not showing.
"I still think that they are leading the pack at the moment. By how much? That is the question."
Heidfeld is not sure where the rest of the field stands behind Red Bull.
"Of course we make some assumptions, I have my theories, but they are not good enough to share them with you," he said.
"I really don't know, other than I believe that the Red Bull is quickest, Ferrari seems in good shape pace-wise and also reliability-wise, and it also looks like Toro Rosso have made a big jump forward. McLaren is a bit difficult to evaluate, and I don't want to speak about where we stand."
The German admitted Renault's reliability had not been satisfactory so far.
"I am not happy. You are only happy if you don't have any problems, and we have had too many, which cost us too much testing time," said Heidfeld. "That's crucial this year, with such limited running, and new systems and new tyres.
"The positive thing is that none of those problems look as if they can't be solved before the first race."
But he played down suggestions that he was not content with the Renault's performance.
"It's a lot better. The comment you referred to was after half a day here in Barcelona, and I didn't have a lot of time to change the car," Heidfeld explained.
"By the end of the previous Barcelona test, I was happy. The balance wasn't as good as Jerez, but it was okay.
"With the changes and updates we have for here, it's even better. I think it is a good balance to have for so early in the season."
Report By Matt Beer and Mark Glendenning - AUTOSPORT