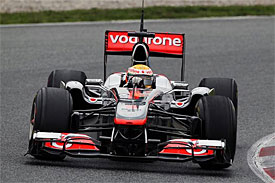 Lewis Hamilton says his McLaren team will need to improve if he is to fight for the title this year, the Briton conceding his car is not competitive enough at the moment.
The Briton insisted, however, that he is hopeful his team can make enough progress to be in the championship fight eventually, and reckons it will be important to score good points in the early races of the season.
Speaking to reporters after today's test at Barcelona, Hamilton said: "Do I believe I have a car to win the world championship at the moment? I don't. No.
"But that doesn't mean it won't become a world championship-winning car.
"From today, the improvements we've had, it's something that can grow to be better, so as long as we keep pushing in the right direction with the development, and the new things we have coming several races down the line, hopefully they will enable us to close the gap and compete for wins.
"As long as we pick up a good few points in the first few races, then we won't be miles behind.
"Say for example we were able to be in the top five for the first three or four races, get those points, and then if we happen to have a car capable of winning, then it would still be possible.
"So I'm definitely not shutting the year off. Everything is still to play for."
Hamilton claimed he was not concerned about the situation because there was nothing he can do to rectify it.
"I'm not worried because for me I've been racing a while, so if there was a race tomorrow I could get in the car and do that, no problem," he said. "I can do qualifying, no problem; can do practice, no problem.
"But in terms of how long the can go in terms of reliability and our true pace, that's an unknown factor for us because in the time we have had we've not been able to maximise things.
"That's no one's fault, just issues you have in testing, and this is testing, this is what it's all about, finding where your weaknesses are so you can build on them and fix them.
"We've been focusing on those, but we definitely have several issues that are not as easy to rectify as we had hoped."
The McLaren driver, who was unable to complete a race distance today as he was hindered by problems, admitted it had been far from an ideal session.
But he said he was hopeful about the performance of the car thanks to the introduction of new upgrades.
"It has been a tough day in the sense that we've not done enough miles," he said. "I came here hoping to do more laps, to get in a good 100-odd laps, to get in a race distance.
"Usually at this time of the year this is when we come with pitstops and one or two race distances a day, but we were nowhere near even completing one.
"So it was a bit on and off today, it wasn't a great day for us, but in terms of how the car felt there was an improvement with some of the upgrades we have. So that is at least a positive, it's not all negative."
Report By Jonathan Noble and Pablo Elizalde - AUTOSPORT