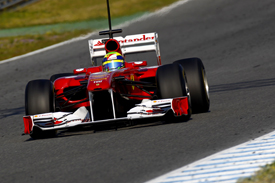 The Grand Prix Drivers' Association (GPDA) is to meet with the FIA in Barcelona on Wednesday evening, AUTOSPORT has learned, to talk through any concerns they have about Formula 1's latest rules - including moveable rear wings.
With only a few weeks left until the first race of the season in Australia, F1's drivers have been keen to clear up outstanding issues that have come to light during testing.
In a bid to make sure that those concerns are settled before the opening round of the campaign, the FIA has agreed to meet all the drivers - plus technical representatives from the teams – for open discussions about it in the Barcelona paddock after the conclusion of testing today.
It is understood that one of the main subjects that is scheduled to be talked through between GPDA representatives and FIA race director Charlie Whiting is the implementation of the moveable rear wing rules – in terms of both how the regulations will work and concerns about safety.
Sources suggest that some drivers are worried that use of the wing, plus KERS, could contribute to a repeat of the collision that Mark Webber and Heikki Kovalainen suffered in Valencia last year thanks to the high closing speeds that will be possible in 2011.
A source told AUTOSPORT: "It's just about having an open and frank discussion about any worries that the drivers have, before we get to Australia. Everyone is keen to make the new rules work as best they can."
The FIA has already successfully tested the software that will be used to manage the wing rules at the races – with the devices activated if a driver gets within one second of the car ahead of him at the corner preceding a designated straight.
The current plan is for an overtaking zone – where the moveable rear wing can be used – to be set up on this straight 600 metres before the braking zone.
The FIA is ready to tweak the length of that zone so that the distance makes an overtaking move possible, but without it becoming too easy.
Report By Jonathan Noble - AUTOSPORT