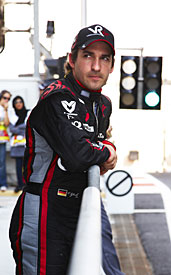 Timo Glock has been released from hospital and is now recovering at home following the operation to have his appendix removed.
Although the German is likely to miss next week's final pre-season test at Barcelona, Glock will be back to full fitness for the season-opening Australian Grand Prix later this month.
Glock has suffered no complications and has even cheekily suggested that he will be quicker as the result of his operation.
"I'm very happy about how the operation went, and about my quick recovery," he said. "It's a shame that I'll probably miss the tests in Barcelona.
"But the guys in Australia are going to have to watch out: without an appendix I'm certain to be faster - I mean, it must have weighed a few grams at least!"
Report By Jonathan Noble - AUTOSPORT