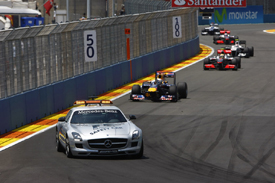 The FIA has adjusted the regulations for safety car periods and pitstops 'under yellow' for the 2011 season to increase safety and close potential loopholes.
Last year cars had to maintain a specified slower speed once the safety car was called, even if they had not yet caught up with the train of cars. This regulation has now been extended to cover two laps, given the officials more time to get the field formed up.
"The safety car speed limit (an approximate 40 per cent decrease in lap time) will now be enforced over two laps instead of one," said a statement issued after today's FIA World Motor Sport Council meeting. "The purpose is to ensure that cars are driven at a safe speed until they reach the safety car."
Adjustments have also been made to prevent cars potentially gaining an advantage by ducking through the pits during this period, and to stop drivers getting caught at the pit exit red light if their stop coincides with the safety car train passing the pits.
"During a safety car period the pit exit light will remain green for the duration, unless the race is subsequently suspended," said the FIA statement.
"Other than when the safety car has been asked to use the pitlane, no car may enter the pits while the safety car is deployed unless it is for the purpose of changing tyres."
Report By Matt Beer - AUTOSPORT