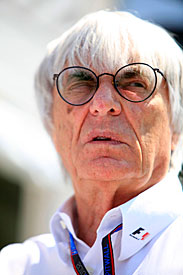 Formula 1 supremo Bernie Ecclestone has ruled out a summer slot for the Bahrain GP, and is aiming to have the race at the end of the season instead.
Ecclestone had suggested earlier this week that Bahrain could be rescheduled to the summer following its cancellation as the opening race of 2011.
But speaking to the BBC on Thursday, the F1 boss suggested the Sakhir race could be slotted in around the end of the season.
And he insisted he will do everything possible to not lose the race this year.
"We'll have a look and see what we can do, how we can swap things round. Maybe we can change with Brazil, something like that," he said.
"I don't know how likely it is that there is going to be peace in Bahrain. But if there is, we will find a way.
"The people there have been very big supporters of us, and are becoming bigger and bigger. We have much more support in Bahrain than we did when we first started there, and if they want the race we want to supply it for them."
He added: "Forget August, it's too hot. It's too hot for the public to sit in the grandstand when it's 40 degrees."
Ecclestone said a decision is expected early next week.
"Yes. Before the world council we need to propose it," he added.
He also denied Formula 1 had been damaged as a result of the decision to cancel the race.
"No, not at all. And I'm hoping upon hope that things settle peacefully in Bahrain and we can try and find a slot later in the year.
"I was nothing to do with the country. The person that runs the country was the right person to decide whether or not it was the right decision, and that's what he thought, that he'd made the right decision - and I'm sure he has.
"Whether if we were there it would have given the opportunity for more unrest or not, I don't know. But I'd hate, had it happened, that we were the cause so people could suddenly get a lot more publicity by sabotaging Formula 1."
Report By Matt Beer and Pablo Elizalde - AUTOSPORT