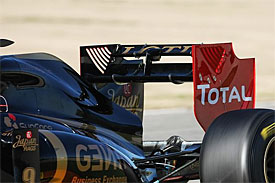 Formula 1 supremo Bernie Ecclestone is doubtful that the new moveable rear wing rules will be a success - and thinks there are better ways to help spice up the show.
Although the moveable wings have been introduced in a bid to improve overtaking, the early experience of them in testing suggests that they will not help matters much with the way the rules are currently.
Ecclestone thinks there are also other important factors that need to be considered in relation to the wings – as he backed comments from Sebastian Vettel that the wings were only on cars to satisfy the television audience.
Speaking to the official F1 website about Vettel's view, Ecclestone said: "He's probably right. It is very difficult to control it by the stewards because the window of usage is very small.
"The chances for protests are inevitably there. To me this system looks pretty dangerous. What if the wings are not up again before the corner and the driver is lacking downforce? That could easily lead to incidents. We have to observe it carefully."
Ecclestone still believes his idea of a medal system would be better for improving excitement in F1 – even though the concept has not received much support from teams and fans.
"I stick to it - let's have medals instead of points," he said. "Drivers want to win and they are not racing for second, third or fourth place. So let's have a system where wins count. Last season it would have worked pretty well.
"Vettel and Alonso would have been even after the last race with five gold medals each, and the same number of silver and bronze medals. Vettel would have won the world championship because he had more fourth places... I call that a thriller!"
Talking about even more radical ideas, Ecclestone believes that perhaps F1 should consider artificially wetting tracks during races.
"Look at the races we have now. Overtaking is almost impossible because in the dry there is only one line good for maximum speed because of the rubber on the track. You have a completely different picture when it is wet. We always had the most exciting races in the wet so let's think of making rain…
"There are race tracks that you can make artificially wet and it would be easy to have such systems at a number of tracks. Why not let it 'rain' in the middle of a race? For 20 minutes or the last ten laps? Maybe with a two-minute warning ahead of it. Suspense would be guaranteed and it would be the same for all."
Report By Jonathan Noble - AUTOSPORT