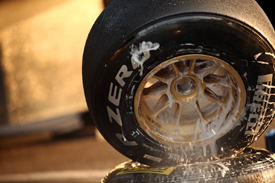 Formula 1 drivers have told the FIA that they want Pirelli to 'react' to the degradation issues that have been prevalent throughout winter testing - but have also vowed to do everything they can to help the Italian tyre manufacturer improve the situation.
During a meeting between representatives of the Grand Prix Drivers' Association (GPDA) and F1 race director Charlie Whiting in Barcelona on Wednesday night to discuss a number of issues - including moveable rear wing rules - lengthy discussion was given over to the early experience of Pirelli rubber.
According to sources at the meeting, a number of drivers expressed their concerns about the implications of the high degradation seen in early running of Pirelli's new rubber – and the impact that that could have on the way grand prix weekends pan out.
But rather than being most fearful about what it means for the racing, the drivers were more worried about how the big drop-off in performance would limit the amount of running drivers could do in practice.
Team Lotus driver Jarno Trulli told AUTOSPORT: "We expressed our view about the tyre situation, and the tyre degradation - because the degradation is not only the fact that you will be five seconds slower after 10 or 15 laps, it is the fact that in some way, it also prevents us from running.
"We would like to run more and if we have tyre degradation after three or five laps then it is hard for us to work – and also to run.
"That is why the FIA reacted this week with having an [option for an] extra tyre set on Friday, and this is already a good step. We are working pretty well together – the drivers, the FIA, Charlie – and I am sure Pirelli as well will catch up. But for sure, everyone is a little concerned at the moment."
Although some drivers have been openly critical of Pirelli's tyres so far, Trulli made it clear that the GPDA was keen to work with Pirelli to make the situation better.
"We are not disappointed, we are only pointing out that degradation is high. What I said - and it is largely shared by everyone in the paddock – is that Pirelli has lacked a little bit of experience in F1.
"But the fact that now we are going to test for them during the season a few times can only be good for us and good for them. I am sure they will catch up, but at the moment, we will have to deal with a lot of degradation – and we will not have less than three stops during the races.
"I really think they [Pirelli] will react to what we have at the moment. We want to have a better situation and Pirelli can do it – they have the tools and they probably can react quite quickly."
He added: "We are not here to criticise Pirelli because they are supplying tyres and doing a good job. But we think they can do a better job.
"If we give them a bit of time and some extra help during the beginning of the season we can quickly react from the experience of everyone so maybe after a few races we can have a better situation with the tyres."
Pirelli motorsport director Paul Hembery has said openly that the company is keen to learn as much as it can during its first year back in F1 – which is why it had been pushing hard for the use of extra 'experimental' tyres in Friday practice.
Speaking earlier this week, he said: "We are humble enough to say that if we need to learn with the sport, then we might need to make some changes. So [the extra Friday tyres] was all part of putting a mechanism in place before the start of the season so we did not have the arguing with all the teams mid-season saying we want to test on a Monday, we need a mid-season test session, which will prove to be impossible."
As well as the discussion with Whiting about tyres, the drivers also talked through their experiences of the moveable rear wing.
And although there appeared to be no major safety worries about the use of the system, a number of drivers – including world champion Sebastian Vettel – did discuss issues they have about the unlimited use of the wing throughout practice and qualifying, and the fact that in races there were now too many buttons and cockpit lights for them to look out for.
Vettel told AUTOSPORT: "The difficulty is, if you have [the moveable wing] in the race and you don't have it in qualifying for example, then you will have different gear ratios and that will potentially destroy the effect of the wing in the race.
"On the other hand, if it is free to use whenever you want, where's the upside in practice and qualifying? Last year we had an F-duct that we could use whenever we wanted; this year we have the wing we can use whenever we want in practice and qualifying. The question is whether we can improve that and do something smart in order to be safer."
Trulli added: "I think more or less everyone agrees that the rear wing has not proved to be unsafe, so that is good news.
"But the way we use the wing together with those guys who use KERS, this might be a concern in the way that the driver is sometimes a bit too busy watching lights, buttons and stuff like that rather than watching ahead. So several drivers expressed their view and we discussed about it – and it is now down to the teams to say we can trim this rule and have a better solution and do what we have.
"At the moment nothing has been said and nothing has been fixed. Charlie will think about it, the teams will go through it with Charlie and if they can improve it and they think it is not a perfect solution they will change it. Otherwise we stick like this."
Trulli said he was upbeat about the way the discussions between the GPDA and the FIA had gone – and was hopeful it would lead to improved rules in the near future.
"It is quite a good attitude from both sides because we didn't go there to criticise – we went there to just discuss about the experience we have had during the winter time with the new rules and what can be improved. It was nothing more than that."
Report By Jonathan Noble and Mark Glendenning - AUTOSPORT