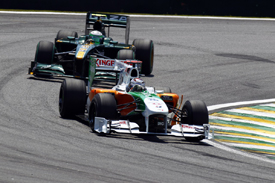 The court case between Force India, Aerolab and the Lotus team will not be heard until January next year.
The row began in late-2009, when Force India claimed that windtunnel models being used by aerodynamic engineering firm Aerolab in work for Lotus bore a resemblance to Force India designs - Aerolab having previously been a partner of Vijay Mallya's squad.
Force India alleged that Lotus would have effectively benefited from using its intellectual property, something Tony Fernandes' team denied.
Aerolab also launched its own legal proceedings against Force India claiming it was still owed unpaid fees
Force India's case will now be heard in the English High Court during the week commencing 16 January 2012, with the team taking action against Team Lotus' parent organisation 1Malaysia, technical director Mike Gascoyne, and Aerolab.
Report - AUTOSPORT