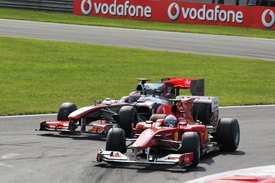 The FIA has announced that its circuit commission will look into whether Formula 1 tracks can be changed to encourage more overtaking.
With the return of KERS, more tyre performance variation and the introduction of an overtaking-focused adjustable rear wing system this year, the rulemakers hope that there will be more opportunities for passing in the 2011 F1 season than in recent years.
But the governing body also wants to take action on circuit design - and is looking at what existing tracks could do rather than just setting requirements for new venues.
"The circuit design group is examining grand prix circuits to identify the possibility of increasing the opportunities for overtaking," said an FIA statement.
FIA president Jean Todt hinted that such a move was on the cards after expressing his displeasure at the difficulty drivers faced in overtaking during the season finale in Abu Dhabi last year. Pre-race points leader Fernando Alonso famously saw Sebastian Vettel snatch the championship after the Ferrari got stuck behind Vitaly Petrov's slower Renault.
"We need to favour overtaking," Todt told La Stampa at the time. "It was impossible at Abu Dhabi."
Williams technical director Sam Michael recently told AUTOSPORT that his team agreed with Todt's push for tracks to be designed with overtaking in mind.
"People know you're not going to get overtaking at somewhere like Monaco and they accept that, but people do expect to be able to overtake on tracks like Barcelona, which is just a joke to be honest," Michael said.
"It's so obvious why, because you've got a long straight followed by a high-speed chicane and as long as that stays there you will never be able to overtake at Barcelona. Abu Dhabi is the same with the chicane at the end of the back straight.
"Chicanes are the bane of F1. They destroy any chance of overtaking because the guy in front can just go into the apex, protect the corner and not hurt his exit. You can't do that with a hairpin. If he protects on a hairpin he loses on the exit but with a chicane he just backs the guy up, sorts himself out and off he goes again. They should just ban chicanes."
Report By Matt Beer - AUTOSPORT