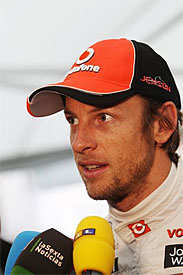 Jenson Button says he is not expecting his McLaren team to be able to match the likes of Red Bull and Ferrari when the season kicks off in Australia later this month.
The Briton, however, admitted he has been impressed with his car's progress since the last test.
"I would be surprised if we can really match the Red Bull and the Ferrari when we get to Melbourne," Button told reporters at Barcelona at the end of the first day of testing.
"I think that is a big ask considering the mileage that we have compared to them, and the pace in the last tests compared to them.
"I think that is going to be tricky. But never say never. I am quite impressed with the step that we have made with the car.
"However, it is still not enough. We will see with more set-up work this week how close we can get to them. But to be on their pace for the first race is very tricky," added the 2009 world champion, second fastest in today's session behind Red Bull's Mark Webber.
Button conceded McLaren's testing has not been as smooth as the team would have wanted, with a lack of laps hindering the car's progress.
"It hasn't been quite the best start to the year in terms of testing, in terms of mileage, and in terms of reliability, and also pace," he said. "But I think we have made some good progress. I would not say we have the quickest car, but still there is a long way to go. But I am happy with what we have achieved today.
"We didn't get as many laps as I would have liked, but in terms of the feel of the car we have made some good steps forward."
He added: "As I said, there is still more work needed to be as quick as Red Bull, Ferrari and maybe another one or two teams, but we are moving forward - and that is a good feeling. The guys have done a great job of really working on the car's performance and the reliability, so I have to say a big well done to them.
"This is only the first day of a four day test, and we hope for a lot more mileage and set-up work. Today, we were limited a little bit but the set-up work that we did and the laps I spent on the circuit, on lower fuel and higher fuel, were quite good improvements from what I experienced here at the last test.
"It is not perfect and it is not ready for the first race yet, but we have made progress – and we should be happy about that."
The McLaren driver said the team should be pleased to be behind Ferrari and Red Bull in Australia, even if its goals are much higher than that.
"You are not going to be happy being the third fastest team, but I don't think it will be a bad way to start the season," Button said.
"You can do a lot from that position. Considering the last few tests and our pace, you would be reasonably happy with that."
Report By Jonathan Noble and Pablo Elizalde - AUTOSPORT