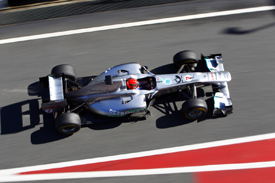 Mercedes team boss Ross Brawn has admitted that the upgrade package being fitted to the W02 for next week's Barcelona test needs to make the car one second quicker if it is to be a frontrunner.
The team has had a troubled start to winter testing, and has been some distance behind the likely championship contenders so far.
Though Mercedes has stuck to a schedule of only bringing its definitive 2011 package to the final test, Brawn acknowledged that the new parts needed to both bring the W02 much closer to the leaders and fend off whatever upgrades the rest of the field would have in Spain next week.
"In the last test at Barcelona we had a go at running low fuel and the super-soft tyres and we were the second-quickest car, but I don't think that's where we are overall," Brawn told BBC Radio Five Live.
"I think we're about a second off where we want to be, and where we want to be is mixing it at the front. So we've got to find a second in the upgrade, which we think we can do but you never know what the others are going to do as well. Everybody's going to have new bits at Barcelona.
"If somebody does come through with a radical innovation that none of the other teams have thought about then it can change things, but we've set out our plan and we'll know when we get to Melbourne whether our plan was right. It's fun to speculate at the moment, but it's very difficult."
Brawn said he had no regrets about the approach Mercedes had taken to the winter.
"I think we said when we started that we had some things to learn with KERS and tyres and we were going to start with a fairly plain car, and you'll see in Barcelona something quite different," he said.
"We're as quietly confident as we can be. We think our strategy is correct, to approach it the way we have, and we'll all know when we get to the first race."
He added: "We may get egg on our face when we come to Melbourne if it hasn't all come together, but we're optimistic."
The team boss also insisted that Michael Schumacher was fully behind Mercedes' handling of the 2011 build-up and backed the squad's design strategy.
"He's part of it, he knows what we're doing and why we're doing it," said Brawn.
* For a full analysis of the problems facing Mercedes, read this week's AUTOSPORT magazine, available in digital form here.
Report By Matt Beer - AUTOSPORT